Personajes con sello colombiano
Jerónimo León Rivera Betancur

jrivera@udem.edu.co


Universidad de la Medellin
Abstract
En el marco de la investigación Personajes, acciones y escenarios en el cine colombiano 1970-2005 una de las categorías más importantes fue la de los personajes de las
películas realizadas en el país en este período. En este estudio se hizo énfasis en aspectos como las recurrencias existentes entre personajes en las distintas historias, el rol que cumplen dentro del relato, la identificación que propician en
el espectador y las características particulares de cada película que configuran la identidad del cine nacional.  Para el artículo se toman once películas y al final se hace referencia al resto de las películas que fueron realizadas en Colombia, durante este mismo período de quince años, hasta el 2005, es la época en la que se ha realizado más del 70% de la producción nacional.
Author Biography

Jerónimo León Rivera Betancur,

Universidad de la Medellin

magister en Educación de la Pontificia Universidad Javeriana.  Comunicador de la Universidad de Antioquia y Especialista en Dirección Escénica para Cine y TV de la EICTV (Cuba).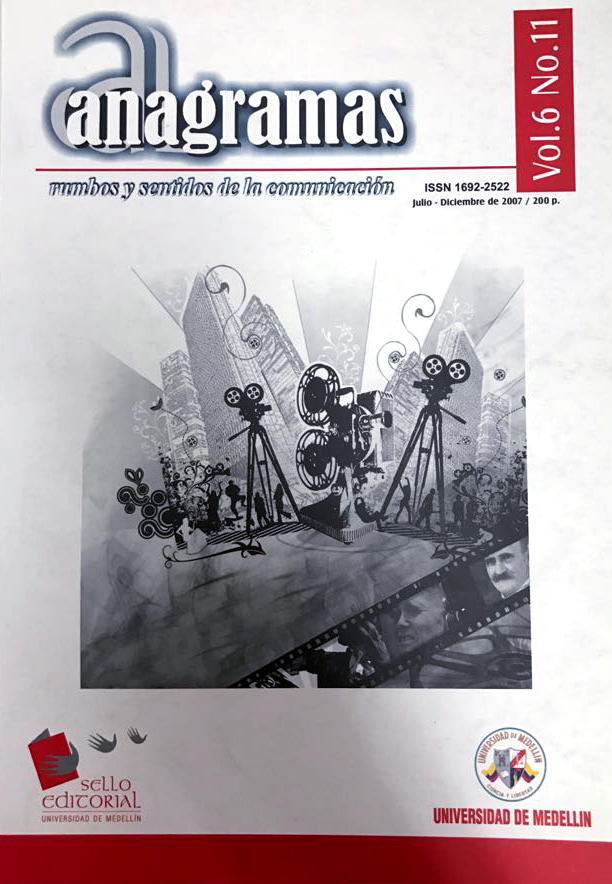 How to Cite
Rivera Betancur, J. L. (1). Personajes con sello colombiano. Anagramas Rumbos Y Sentidos De La Comunicación, 6(11), 93-115. Retrieved from https://revistas.udem.edu.co/index.php/anagramas/article/view/746
Downloads
Download data is not yet available.
Copyright (c) 2014 Anagramas
This work is licensed under a Creative Commons Attribution-NonCommercial 4.0 International License.
Total or partial reproduction of the contents of the journal are authorized for educational, investigative or academic purposes as long as the source is cited. In order to make reproductions for other purposes, it is necessary to have the express authorization of the imprint or Sello Editorial of the Universidad de Medellín.