Propuesta de representación de prácticas de enseñanza y aprendizaje de ingeniería de software usando una extensión del núcleo de Semat
María Clara Gómez Álvarez

Universidad de Medellín

http://orcid.org/0000-0002-4355-2978

Ruben Dario Sanchez-Dams

Universidad Nacional de Colombia

Alvaro Alexander Barón Salazar

Universidad de Nariño
Palabras clave:
Nucleo de semat, práctica, enseñanza-aprendizaje de ingeniería de software.
Resumen
La ingeniería de software es una disciplina orientada a la definición de métodos, técnicas y herramientas para el desarrollo eficiente de productos de software. La demanda creciente de estos productos genera la necesidad de contar con una gran cantidad de ingenieros de software con las competencias técnicas y sociales requeridas por la industria. Esta situación es un desafio para las instituciones de educación superior en relación con el proceso de enseñanza de los futuros profesionales de esta disciplina. En este sentido, estas instituciones están explorando estrategias activas de enseñanza para promover en los estudiantes las competencias necesarias. Sin embargo, una propuesta integradora de estos enfoques de enseñanza no ha sido desarrollada hasta ahora. En este artículo los autores describen una propuesta para representar prácticas de enseñanza-aprendizaje de ingeniería de software, orientada a identificar los principales conceptos incluidos en cualquier tipo de práctica. Esta propuesta esta basada en el núcleo de Semat, del estandar Essence, como marco de trabajo universal para la representación de prácticas de ingeniería de software, definiendo una extensión de dicho núcleo. Finalmente, presentamos un ejemplo de representación de una práctica de enseñanza-aprendizaje de ingeniería de software usando la extensión del núcleo de Semat propuesta.
Citas
[1] I. Sommerville, Software Engineering, 9 ed., Pearson,2011, 535 p.

[2] M. Qureshi, M. Asim, and M. Nadeem, "A new teaching model for the subject of software project management", arXiv Prepr. arXiv, 2012.

[3] F. Ma, W. Li, J. Si, and L. Wang, "Theoretical Construction of Prototype Teaching Model", presented in Second International Workshop on Education Technology and Computer Science, Hubei, 2010

[4] C. N. Bull and J. Whittle, "Supporting Reflective Practice in Software Engineering Education through a Studio-Based Approach", IEEE Software, vol. 31, no. 4, pp. 44–50, 2014.

[5] C. Moller, G. Reina, M. Burch, and D. Weiskopf, "Large-Scale Visualization Projects for Teaching Software Engineering," IEEE Computer Graphics and Applications, vol. 32, no. 4, pp. 14–19, 2012.

[6] OMG Group, "Kernel and Language for Software Engineering Methods (Essence)" , 2014.

[7] D. Madigan, M. Print, "IEEE 1547 and 2030 Standards for Distributed Energy Resources Interconnection and Interoperability with the Electricity Grid," [Online], access: 15 june 2016, Available: http://www.bath.ac.uk/management/larg_agile/publications/pdf/cnu97-38.pdf, 2014.

[8] T. Basso, "Benchmarking Civil Engineering: The ACI approach", [Online], access: 17 june 2016, Available: http://www.nrel.gov/docs/fy15osti/63157.pdf

[9] Software Engineering Institute, "CMMI for Development, Version 1.3", [Online], access: 18 june 2016, Available: http://www.sei.cmu.edu/reports/10tr033.pdf, 2010.

[10] Object Management Group, Kernel and Language for Software Engineering Methods (Essence)-Version 1.1, 2015.

[11] P. Grossman, C. Compton, D. Igra, M. Ronfeldt, E. Shahan, and P. Williamson, "Teaching practice: A cross-professional perspective",Teachers College Record, vol. 111, no. 9, pp. 2055–2100, 2009.

[12] Garcia, A., M. Daneri, Investigación e innovación en el conocimiento educativo actual, En R. I. Roig y J.E. Blasco (Coord.),2008.

[13] A. M. Vivar Quintana, A. B. González Rogado, A. B. Ramos Gavilán, I. R. Martín, M. Ascensión, R. Esteban, T. A. Zorrila, and J. F. Martín Izard, "Application of rubric in learning assessment: a proposal of application for engineering students" presented in Proceedings of the First International Conference on Technological Ecosystem for Enhancing Multiculturality,New York, 2013.

[14] D. I. K. Sjøberg, T. Dybå, B. C. Anda, and J. E. Hannay, "Building theories in software engineering," in Guide to advanced empirical software engineering, F. Shull, J. Singer, and D. I. K. Sjøberg, Eds. London: Springer, 2008.

[15] M. Ekstedt, "An empirical approach to a general theory of software (engineering)", presented in 2013 2nd SEMAT Workshop on a General Theory of Software Engineering (GTSE),San Francisco, 2013.

[16] C. M. Zapata-Jaramillo, "An executable pre-conceptual schema for a software engineering general theory," in Software Engineering: Methods, Modeling, vol. 3, C. M. Zapata-Jaramillo and L. F. Castro-Rojas, Eds. Centro Editorial de la Facultad de Minas, 2014.

[17] B. Elvesæter, G. Benguria, and S. Ilieva, "A comparison of the Essence 1.0 and SPEM 2.0 specifications for software engineering methods", presented in Proceedings of the Third Workshop on Process-Based Approaches for Model-Driven Engineering, New York, 2013.

[18] OMG Group, Software & Systems Process Engineering Meta-Model Specification, 2008.

[19] I. Jacobson, P.-W. Ng, P. McMahon, I. Spence, and S. Lidman, "The Essence of Software Engineering: The SEMAT Kernel", Queue, vol. 10, no. 10, pp.40-51, 2012.

[20] B. Kitchenham, "Procedures for performing systematic reviews," Keele, UK, Keele University, vol. 33, no. 2004, pp. 1–26, 2004.

[21] R. Sánchez-Dams, A. Barón-Salazar, and M. C. Gómez-Álvarez, "An Extension of the SEMAT Kernel for Representing Teaching and Learning Practices about Embedded Systems", presented in 2016 4th International Conference in Software Engineering Research and Innovation (CONISOFT), Puebla, 2016.

[22] A. Hazeyama, "Collaborative Software Engineering Learning Environment Associating Artifacts Management with Communication Support", presented in Advanced Applied Informatics (IIAIAAI), 2014 IIAI 3rd International Conference, Kitakyushu, 2014.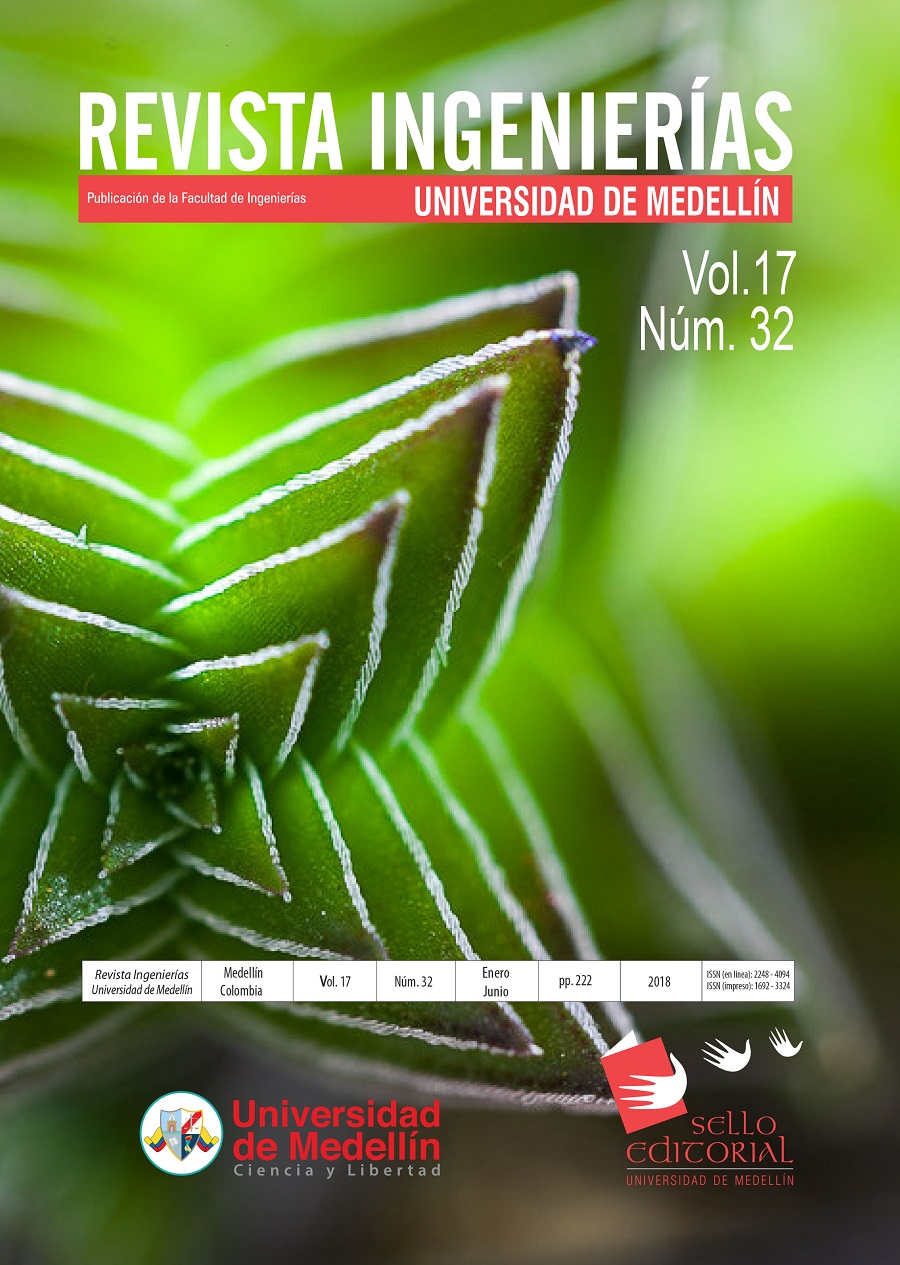 Esta obra está bajo licencia internacional
Creative Commons Reconocimiento-NoComercial 4.0
.
Queda autorizada la reproducción total o parcial de los contenidos de la revista con finalidades educativas, investigativas o académicas siempre y cuando sea citada la fuente. Para poder efectuar reproducciones con otros propósitos, es necesario contar con la autorización expresa del Sello Editorial Universidad de Medellín.