Characterization of the In-Phase Response and Phase Compensation in Multicarrier Systems for Channels with Non-Uniform Frequent
Claudia Lucía Cortés Cortés

clcortesc@unal.edu.co


Universidad Nacional de Colombia - sede Manizales

Neil Guerrero González

nguerrerog@unal.edu.co


Universidad Nacional de Colombia - sede Manizales
Keywords:
multicarrier modulation, non-uniform frequency response, phase response, Nyquist - FDM, unconventional QPSK
Abstract
This work proposes a methodology for the phase estimation in sub-bands of a non-uniform response channel. The novelty of this proposal lies in the use of a modulation format in QSPK (Quadrature Phase Shift Keying) quadrature-phase modified as a test signal for the phase estimation that eliminates the ambiguity issue. The methodology here proposed is verified experimentally using a defective RF cable as transmission channel and
thus achieving data transmission rates of 20 Kbaud in a 120 cm distance in a frequency band between the 50 kHz y 276 kHz.
References

[1] M. Reza Khanzadi, "Phase Noise in Communication Systems Modeling, Compensation, and Peformance Analysis", PhD disseation, Chalmers University of Technology - Göteborg,Sweden, 2015.

[2] A. F. Betancur-Pérez, J. J. Granada Torres y N. Guerrero González, "Redes elásticas del futuro: beneficios para la red interna de telecomunicaciones de Colombia",Tecno Lógicas, vol. 18, n.° 34, pp. 125-136, 2015. DOI: 10.22430/22565337.222

[3] N. J. Gomes, M. Morant, A. Alphones, B. Cabon, J. E. Mitchell, C. Lethien, M. Csörnyei, A. Stöhr y S. Iezekiel, "Radio-over-fiber transport for the support of wireless broadband services", J. Opt. Netw., vol. 8, pp. 156-178, 2009. DOI: 10.1364/JON.8.000156

[4] R. D. Gallego Ruiz, Y. D. Sánchez Sierra, J. J. Granada Torres, A. M. Cárdenas Soto y N. Guerrero González, "Compensación de los efectos dispersivos de la fibra óptica en un sistema IM-DD usando ecualización LMS y MLSE",Rev. Investig. - Univ. del Quindío, vol. 27, n.°2, pp. 40-47, 2015. DOI: 10.33975/riuq.vol27n2.53

[5] A. García Marqués, "Cuantificación del estado del canal para la minimización de la potencia en sistemas con transmisores adaptativos", PhD dissertation, Universidad Carlos III de Madrid - Madrid, Spain, 2007.

[6] Umesha G. B.y M. N. Shanmukha Swamy, "Survey on Different Types of Channel Estimation Techniques in MIMO-OFDM Communication Systems",Int. J. Eng. Technol. Manag. Appl. Sci., vol. 5, n.° 1, pp. 15-19, 2017. http://www.ijetmas.com/admin/resources/project/paper/f201701041483534241.pdf

[7] Z. Zhao, X. Cheng, M. Wen, B. Jiao y C.-X. Wang, "Channel Estimation Schemes for IEEE 802.11p Standard",IEEE Intelligent Transportation System Magazine, vol. 31, n.° 9, pp. 3531-3540, 2013. DOI: 10.1109/MITS.2013.2270032

[8] C. Prieto del Amo, "Estimación de canal y desplazamiento de frecuencia en sistemas MIMO-OFDM con prefijo cíclico insuficiente", PhD dissertation, Universidad Carlos III de Madrid - Madrid, Spain, 2015.

[9] H. Kaur, M. Khosla y R. K. Sarin, "Channel Estimation in MIMO-OFDM System: A Review", in Proceedings of the 2nd International Conference on Electronics, Communication and Aerospace Technology, ICECA 2018, pp. 74-980. DOI: 10.1109/ICECA.2018.8474747

[10] P. Sure y C. M. Bhuma, "A survey on OFDM channel estimation techniques based on denoising strategies",Eng. Sci. Technol. an Int. J., vol. 20, n.° 2, pp. 629-636, 2017. DOI: 10.1016/j.jestch.2016.09.011

[11] A. M. Jaradat, J. M. Hamamreh y H. Arslan, "Modulation Options for OFDM-Based Waveforms: Classification, Comparison, and Future Directions", IEEE Access, vol. 7, pp. 17263-17278, 2019. DOI: 10.1109/ACCESS.2019.2895958

[12] I. Fernández de Jauregui Ruiz, "Advanced modulation formats and nonlinear mitigation for spectral efficient optical transmission systems", PhD dissertation, Institut National des Télécommunications - Paris, zrance, 2018. DOI: 10.1109/JLT.2008.927778

[13] A. J. Viterbi y A. M. Viterbi, "Nonlinear estimation of PSK-modulated carrier phase with application to burst digital transmission",IEEE Trans. Inf. Theory, vol. IT-29, n.° 4, pp. 543-551, 1983. DOI: 10.1109/TIT.1983.1056713

[14] M. G. Taylor, "Phase estimation methods for optical coherent detection using digital signal processing", J. Light. Technol., vol. 27, n.° 7, pp. 901-914, 2009.

[15] Z. Tao, L. Li, L. Liu, W. Yan, H. Nakashima, T. Tanimura, S. Oda, T. Hoshida y J. C. Rasmussen, "Improvements to Digital Carrier Phase Recovery Algorithm for HighPerformance Optical Coherent Receivers",IEEE J. Sel. Top. Quantum Electron., vol. 16, n.° 5, pp. 1201-1209, 2010. DOI: 10.1109/JSTQE.2010.2040370

[16] R. Schmogrow, R. Bouziane, M. Meyer, P. A. Milder, P. C. Schindler y R. I. Killey, "Real-time OFDM or Nyquist pulse generation - which performs better with limited resources?",Opt. Express, vol. 20, n.° 26, pp. B543–B551, 2012. DOI: 10.1364/OE.20.00B543

[17] I. Slim, C. Xie and J. A. Nossek, "Orthogonal Frequency Division Multiplexing for Spectrally Efficient Nyquist WDM Systems," OFDM 2014; 18th International OFDM Workshop 2014 (InOWo'14), Essen, Germany, 2014, pp. 1-4. URL: http://ieeexplore.ieee.org/stamp/stamp.jsp?tp=&arnumber=6924252&isnumber=6924248

[18] X. Liu, C. Sethumadhavan, T. Pfau y G. Gavioli, "Detection and Removal of Cycle Slip from Received Signals", United States Patent Application 20150215050, 2015. [Internet]. Disponible: http://www.freepatentsonline.com/y2015/0215050.html

[19] J. A. Hartigan y M. A. Wong, "Algorithm AS 136 : A K-Means Clustering Algorithm", J. R. Stat. Soc. Ser. C Applied Stat., vol. 28, n.° 1, pp. 100-108, 1979.

[20] N. Guerrero González, D. Zibar, A. Caballero y I. Tafur Monroy, "Experimental 2.5-Gb/sQPSK WDM phase-modulated radio-over-fiber link with digital demodulation by a K -meansalgorithm",IEEE Photonics Technol. Lett., vol. 22, n.° 5, pp. 335-337, 2010. DOI: 10.1109/LPT.2009.2039640
Author Biographies

Claudia Lucía Cortés Cortés,

Universidad Nacional de Colombia - sede Manizales

Magíster en Ingeniería en Automatización Industrial, estudiante del Doctorado en Ingeniería Automática,
Universidad Nacional de Colombia, Manizales, Colombia

Neil Guerrero González,

Universidad Nacional de Colombia - sede Manizales

PhD en Fotónica. Profesor asociado del Departamento de Ingeniería Eléctrica, Electrónica y Computación, Universidad Nacional de Colombia, Manizales, Colombia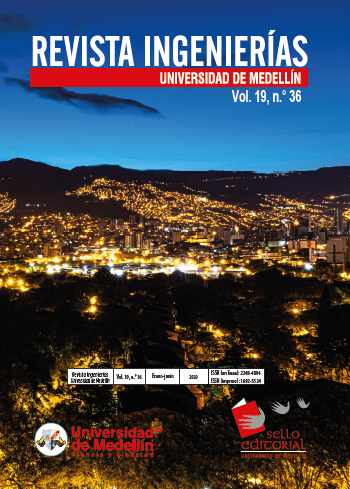 How to Cite
Cortés Cortés, C. L., & Guerrero González, N. (2019). Characterization of the In-Phase Response and Phase Compensation in Multicarrier Systems for Channels with Non-Uniform Frequent . Revista Ingenierías Universidad De Medellín, 19(36), 167-185. https://doi.org/10.22395/rium.v19n36a8
Downloads
Download data is not yet available.
Copyright (c) 2019 Revista Ingenierías Universidad de Medellín
This work is licensed under a Creative Commons Attribution-NonCommercial-NoDerivatives 4.0 International License.
The total or partial reproduction of the contents of the journal for educational, research, or academic purposes is authorized as long as the source is cited. For reproduction for other purposes, express authorization from the Sello Editorial Universidad de Medellín is required.