Reading means. Audience ignored the power of hearings
Daniel Fernando López Jiménez

daniel.lopez1@unisabana.edu.co


Universidad de La Sabana
Keywords:
Consumption, Media, Education, Audiences, Youngsters, Bogotá
Abstract
In this article, presented as the final report of the research "Juvenile Audiences' Education: a pedagogical proposal before media consumption habits," there is a phenomenological analysis of social communication media consumptions such as: television, radio, press, and Internet. In this analysis, we call the attention about the need for educating audiences as a reply to the needs of juvenile population's criterion formation, where despite the evidenced critical sense there has been established factors which participate in the full execution of freedom.
Author Biography

Daniel Fernando López Jiménez,

Universidad de La Sabana

Candidato al Doctorado sobre Sociedad de la información y Sociedad del conocimiento en la Universidad Oberta de Cataluña. Máster en Sociedad de la Información y Sociedad del conocimiento de la misma Universidad. Máster en Evaluación de impacto ambiental del Instituto Superior de Investigaciones Ecológicas de Málaga, España. Comunicador Social y Periodista de la Univesida de La Sabana. Actualmente es el Director de Investigaciones y Postgrados de la Facultad de Comunicación Social y Periodismo dela Universid de La Sabana y Director Académico del Postgrado en Gerencia de la Comunicación Organizacional. Es investigador del Observatorio de medios y profesor en el Área de Comunicación Pública. Director del Centro de Investigaciones de la Comunicación y las Relaciones Públicas de Colombia CECOR-Bogotá.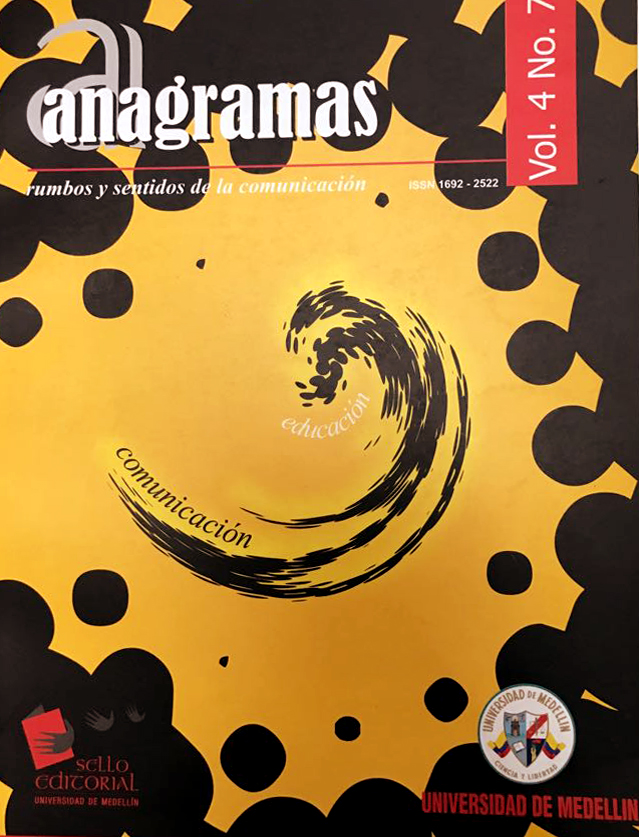 How to Cite
López Jiménez, D. F. (2014). Reading means. Audience ignored the power of hearings. Anagramas Rumbos Y Sentidos De La Comunicación, 4(7), 51-80. Retrieved from https://revistas.udem.edu.co/index.php/anagramas/article/view/1110
Downloads
Download data is not yet available.
Copyright (c) 2015 Anagramas
This work is licensed under a Creative Commons Attribution-NonCommercial 4.0 International License.
Total or partial reproduction of the contents of the journal are authorized for educational, investigative or academic purposes as long as the source is cited. In order to make reproductions for other purposes, it is necessary to have the express authorization of the imprint or Sello Editorial of the Universidad de Medellín.