Languages of urban communication. Published essay about the spelling of the city of Porto Alegre
Silveira Fabrício

fabricios@unisinos.br
Universidad de Vale do Rio dos Sinos. UNISINOS

Keywords:
Urban visual communication; public space; visual anthropology
Abstract
The text discuss the urban space as a semiotic and comunicational space. The city passes to be seen (and it also passes to be interpreted) as a scene for many lexias and public registrations. Grafitti, monuments, plates of signalling, outdoors and a infinity of other significant articulations configure the metrópolis as an inhabited text, permanently rewritten. Such assumptions ¡n allow them to understand, as prompt focus of our empirical work, the city of Porto Alegre, situated in the south of Brazil, as a field for many discursive's coexistences.
Downloads
Download data is not yet available.
Author Biography

Silveira Fabrício,

Universidad de Vale do Rio dos Sinos. UNISINOS

Periodista de la Universidad Federal de Santa María (UFSM, 1995), Master en Comunicación e Información (UFRGS, 1998) y Doctor en Ciencias de la Comunicación (Unisinos, 2003). Actualmente es profesor e investigador en el Programa de Posgrado en Ciencias de la Comunicación Unisinos, en São Leopoldo / RS. En dos ocasiones, fue profesor invitado e investigador visitante en la Universidad Autónoma de Barcelona.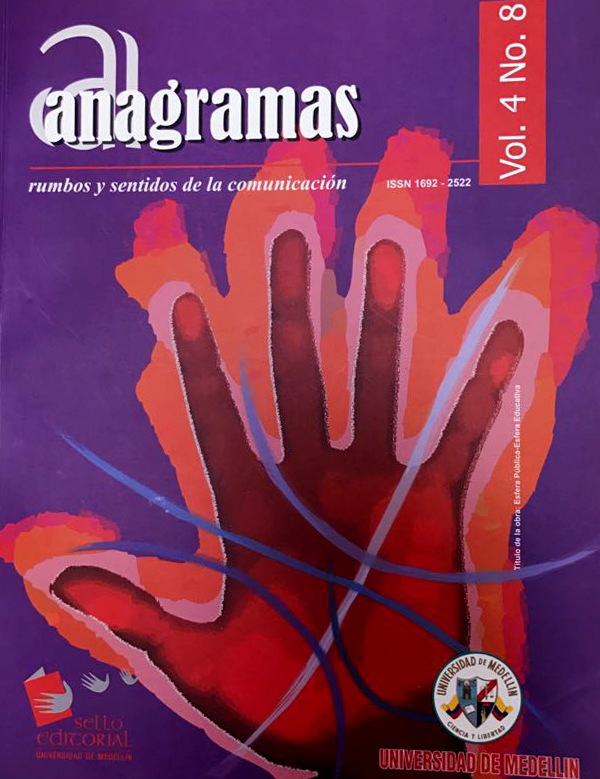 How to Cite
Fabrício, S. (11). Languages of urban communication. Published essay about the spelling of the city of Porto Alegre. ANAGRAMAS RUMBOS Y SENTIDOS DE LA COMUNICACIóN, 4(8), 157-169. Retrieved from https://revistas.udem.edu.co/index.php/anagramas/article/view/1127
This work is licensed under a Creative Commons Attribution-NonCommercial 4.0 International License.
Total or partial reproduction of the contents of the journal are authorized for educational, investigative or academic purposes as long as the source is cited. In order to make reproductions for other purposes, it is necessary to have the express authorization of the imprint or Sello Editorial of the Universidad de Medellín.