Recognition and the media
Sandra Meléndez Labrador

slabrador@uninorte.edu.co


Universidad del Norte
Keywords:
Media, recognition
Abstract
 Recognition and the media recopila los aportes al campo de la comunicación y al estudio de los medios que viene desarrollando Rousiley Maia sobre la base de la teoría crítica de Axel Honneth, desde 1998 tras su formación posgradual en Política en la Universidad de Nottingham (UK) y como directora del grupo de investigación Pesquisa em Mídia e Esfera Pública (EME), de la Universidade Federal de Minas Gerais (UFMG) en Brasil.
El objetivo general del libro es ofrecer luces respecto a lo que la autora denomina 'interfaces' –las posibles conexiones– entre la teoría del reconocimiento de Honneth, la teoría política de la comunicación y la investigación empírica de los medios de comunicación, es decir, entre los estudios de los medios y los estudios de las luchas por el reconocimiento, en dinámicas que involucran la democracia, la esfera pública, la identidad, las minorías y grupos menos favorecidos, el compromiso cívico y los movimientos sociales.
Author Biography

Sandra Meléndez Labrador,

Universidad del Norte

Docente-Investigadora Universidad del Norte, Barranquilla, Colombia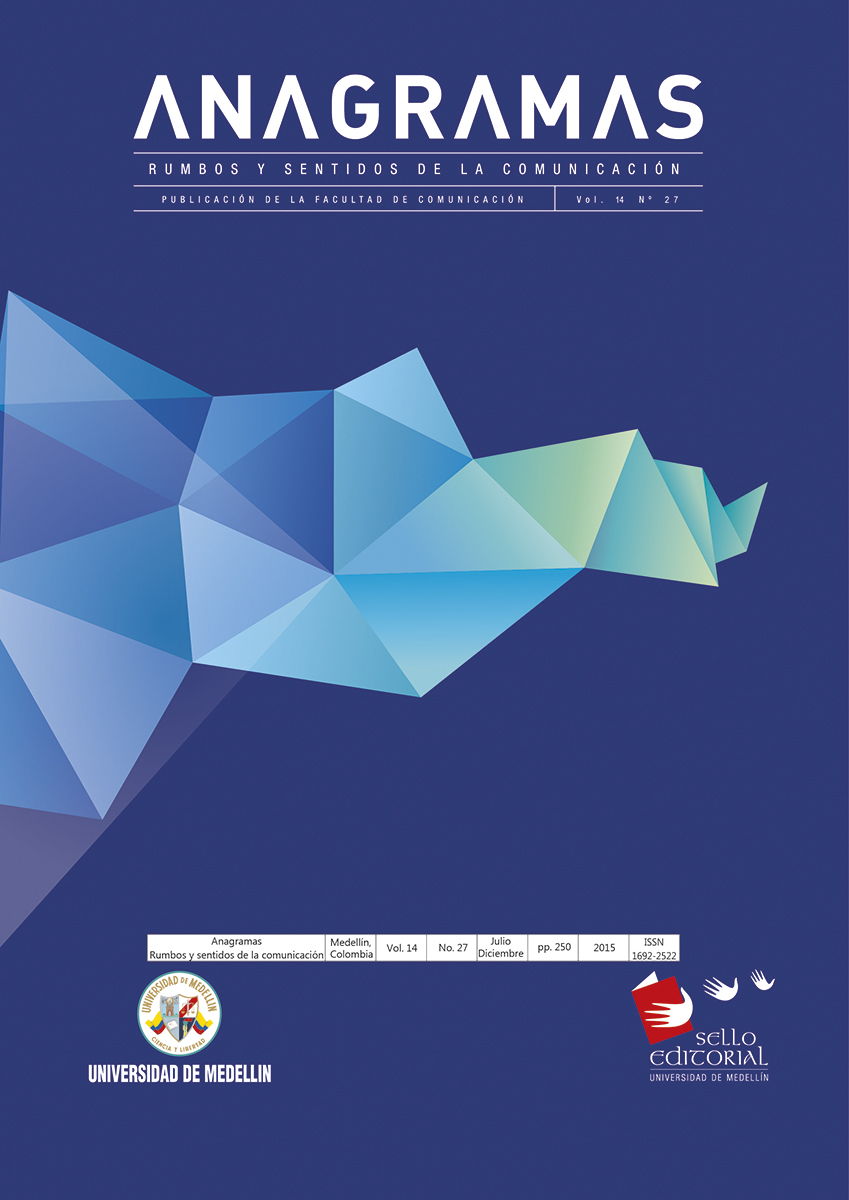 How to Cite
Meléndez Labrador, S. (1). Recognition and the media. Anagramas Rumbos Y Sentidos De La Comunicación, 14(27), 201-216. Retrieved from https://revistas.udem.edu.co/index.php/anagramas/article/view/1496
Downloads
Download data is not yet available.
Copyright (c) 2015 Anagramas
This work is licensed under a Creative Commons Attribution-NonCommercial 4.0 International License.
Total or partial reproduction of the contents of the journal are authorized for educational, investigative or academic purposes as long as the source is cited. In order to make reproductions for other purposes, it is necessary to have the express authorization of the imprint or Sello Editorial of the Universidad de Medellín.