Intercultural Communication Strategies for the Implementation of the Law of Victims with Indigenous Communities: The Case of the Emberá Katío Choromandó Community in Dabeiba (Antioquia)
Keywords:
Peace proposal, Law of Victims, participative action research, intercultural communication, proxemic indigenous community, non-verbal communication, indigenous cosmogony, polytopia, polychromy, indigenous reservation
Abstract
According to the Law of Victims in Colombia (Law 1448 of 2011, and its Regulatory Decree 4633 of the same year), an indigenous community like the Emberá Katío Choromandó of Dabeiba (Antioquia) meets the conditions to be considered as affected by the actors of the armed conflict and, therefore, to be a subject of rights. However, this law remains budding when it aims to offer elements of interculturality that allow its effective appropriation. Faced with this, an accompaniment is proposed to the community of Choromandó in the co-creation of a peace proposal, adapting the Victims' Law to their needs within the framework of agreements with the Revolutionary Armed Forces of Colombia (FARC) in Havana (Cuba). Through a participatory design, in accordance with the conceptual and methodological assumptions both of the research-action-participation of Orlando Fals Borda, and of intercultural communication of Edward Hall, a series of demands that start from the understanding of the Embera worldview is established, which underlies its indissoluble space-time dimension, until the validation of its autonomy, which translates into the preservation of its identity, stemmed from the filiation to the territory. The aspects of interculturality that were significant in the process included the following: Non-verbal communication and paralanguage, the diverse value of space and time (polytopia and polychrome) to understand the interrelations of the settlers (proxemia), and the joint work with the mestizo population to replace the lack of knowledge of the native language, and to enter into the communication practices of a culture without a written language.
Downloads
Download data is not yet available.
References

Asunción-Lande, N.C. (1993). Comunicación intercultural. En (Fernández Collado, Carlos y Gordon L., Dahnke). La condición humana: ciencia Social. (177-197). México: Mc Graw Hill.

Avellaneda, H., León, H., Pacheco, A., Restrepo, J., Vera, J., y Betancur, C. (2011). Condiciones económicas y culturales de poblaciones especiales: afrodescendientes, indígenas y desplazados, Universidad Tecnológica de Pereira, primer semestre 2010. Revista Médica de Risaralda, 17(1), 33-40.

Blu Radio, (2013, Enero 4). Muerte de Reinaldo Domicó haría parte de disputa entre indígenas: Carlos Salazar. [Grabación sonora]. Recuperado el 25 abril de 2015 del sitio

http://www.bluradio.com/14657/muerte-de-reinaldo-domico-haria-parte-de-disputa-entre-indigenas-carlos-salazar

Casmir, F. & Asunción‐Lande, N. (1989). Intercultural Communication. Conceptualization, Paradigm Building and Methodological Approaches. En (Anderson, James). Communication Yearbook/12 (278-309). London: Sage. Fitzgerald, T. K. (1993): Metaphors of Identity. A Culture Communication Dialogue. Albany: State University of New York Press.

Cerda-Hegerl , P. (2005). Actas del Programa de Formación para el profesorado de Español como Lengua Extranjera del Instituto Cervantes de Múnich (2005-2006). Recuperado el 12 de Mayo de 2016 del sitio

http://cvc.cervantes.es/ensenanza/biblioteca_ele/publicaciones_centros/PDF/munich_2005 2006/05_cerda-hegerl.pdf

Colombia. Congreso de la República. (2011). Ley 1448 de 2011: Por la cual se dictan medidas de atención, asistencia y reparación integral a las víctimas del conflicto armado interno y se dictan otras disposiciones. Bogotá: Diario Oficial.

Comisión Étnica para la Paz y la Defensa de los Derechos Territoriales. (24 de agosto, 2016). Comunicado oficial 003 [Comunicado de prensa]. Disponible en

http://www.onic.org.co/comunicados-onic/1410-comunicado-oficial-comision-etnica-para-la-paz-y-la-defensa-de-los-derechos-territoriales

Chavarro, Á. S. (2013). Lorenzo muelas y el constitucionalismo indígena "desde abajo": Una retrospectiva crítica sobre el proceso constituyente de 1991. Colombia Internacional, (79), 77-120. Recuperado de

http://www.scielo.org.co/pdf/rci/n79/n79a04.pdf

Durán, C. A. (2009). Gobernanza en los Parques Nacionales Naturales Colombianos: reflexiones a partir del caso de la Comunidad Orika y su participación en la conservación del Parque Nacional Natural Corales del Rosario y San Bernardo. Revista de Estudios Sociales, (32), 60-72. Disponible en

http://www.scielo.org.co/pdf/res/n32/n32a05.pdf

Durango Álvarez, G. A. (2012). Los movimientos sociales desde la perspectiva de las mujeres y pueblos indígenas. Un análisis desde la jurisprudencia de la Corte Constitucional colombiana. Revista de Derecho, (37), 111-130.

Fals Borda, O. (1985). Discusión conceptual para la reflexión de cuadros. En. Conocimiento y poder popular: lecciones con campesinos de Nicaragua, México, Colombia (pp.125- 149.) Bogotá: Siglo veintiuno editores.

Fula, H.C. (2013). Movimiento Armado Indígena Quintín Lame, Coordinadora Guerrillera Simón Bolívar y proceso de paz. Texto presentado II Congreso Internacional Izquierdas, movimientos sociales y cultura política en Colombia. Nov. 7 de 2013. Recuperado el 4 de marzo de 2015 del sitio

http://www.indepaz.org.co/wp-content/uploads/2013/11/encuentro-izquierdas.pdf

Gerencia Indígena de Antioquia. (2002). Normas Básicas de la Legislación Indígena. Antioquia. Medellín: Imprenta Departamental de Antioquia

González Morales, A. (2003). Los paradigmas de investigación en ciencias sociales. Islas, 45(138), 125-135.

González, L. S. (2013). El derecho a la autonomía política en los pueblos indígenas de América Latina. Nómadas, Núm. Especial, 1-19. Disponible en

https://webs.ucm.es/info/nomadas/americalatina2013/marialuisasoriano.pdf

Guardiola, D. G. (2011). Movimientos de mujeres indígenas en América latina: El caso de panamá y la Conamuip. Revista Española de Antropología Americana, 41(2), 369-389. Disponible en

http://revistas.ucm.es/index.php/REAA/article/viewFile/37232/36034

Hall, E.T. (2005). La dimensión oculta. Buenos Aires: Siglo Veintiuno Editores.

Hernández-Díaz, J. (2010). La construcción de ciudadanías postliberales: Los reclamos de autonomía municipal y demandas indígenas en México. American Research Review, 45, 138-165,335. Disponible en

http://lasa-4.univ.pitt.edu/LARR/prot/fulltext/Vol45noSI/Hernandez-Diaz_138-165_45-SI.pdf

Holguín, N. (2012). Apertura constitucional de 1991, diversidad étnica y cultural y ordenamiento político: aproximación filosófica política. Universitas Humanística, (74), 57-74.

Instituto para el Desarrollo de Antioquia, Gobernación de Antioquia, Gerencia de Asuntos Indígenas. (2006). Escuela de líderes y liderezas indígenas de Antioquia: Administración. Antioquia. Medellín: Imprenta departamental de Antioquia

Maldonado, A. M., & Hidalgo, V. G. (2009). El sistema político y movimientos indígenas: el caso del EZLN. Nómadas, 23(3), 339-370. Disponible en

https://webs.ucm.es/info/nomadas/23/mercado_gonzalez.pdf

Morales, S. P., y Isidro, L. (2014). La paradoja hipócrita. Problematización de la participación política de la mujer misak. Colombia Internacional, (80), 135-170. Disponible en

http://www.scielo.org.co/pdf/rci/n80/n80a05.pdf

Navia, J. (1997 Febrero 16). Caso juzgado en Dabeiba. El Tiempo, archivo digital. Recuperado el 4 de marzo de 2015 del sitio

http://www.eltiempo.com/archivo/documento/MAM-581960

Nos, E., Iranzo, A y Farné, A. (2012). La eficacia cultural de la comunicación de las ONGD: Los discursos de los movimientos sociales actuales como revisión. Cuadernos de Información y Comunicación, 17, 209-237. Disponible en

http://revistas.ucm.es/index.php/CIYC/article/view/39265/37848

Orjuela, E. M., Córdoba, S., y Caicedo, A. (2012). Movimientos sociales: visiones de alternatividad política desde sur y centro América. Casos: Bolivia, Ecuador, Brasil y México. Ars Boni Et Aequi, 8(2), 211-250. Disponible en

http://www.ubo.cl/icsyc/wp-content/uploads/2012/07/05-Servio-Caicebo.pdf

Personería Municipal de Dabeiba. (2016). Informe de Gestión 2014- 2016. Disponible en

https://es.slideshare.net/AlcaldiaDabeiba/informe-de-gestin-dabeiba-20142016

Petit, L. (2013). Identidad y pertenencia: la acción de los adolescentes como promotores de derecho indígena en la Comunidad Mapuche Mariano Epulef. CS Ciencias Sociales, (11), 145-176 Disponible en

https://www.icesi.edu.co/revistas/index.php/revista_cs/article/view/1569/2040

Rodríguez, E. C. (2012). Redefiniendo la nación: luchas indígenas y estado plurinacional en Ecuador (1990-2008). Nómadas, Núm. Especial, 469-491. Disponible en

https://webs.ucm.es/info/nomadas/americalatina2012/edwincruzrodriguez.pdf

Programa Somos Defensores. (2013). Héroes anónimos. Sistema de Información sobre Agresiones contra Defensores y Defensoras de Derechos Humanos en Colombia-SIADDHH. Disponible en

https://www.mpdl.org/sites/default/files/130913-colombia-informe-enero-junio.pdf

Tocora, L. B., y Urrego, L. O. (2013). Propuesta metodológica para la inclusión tecnológica de la comunidad indígena Wayuu. Uni-pluri/versidad, 13(3), 71-81. Disponible en

https://aprendeenlinea.udea.edu.co/revistas/index.php/unip/article/viewFile/18620/15972

Torres, J. Z. (2010). Espacio y Territorio sagrado. Lógica del "ordenamiento" territorial indígena. Bogotá, Cundinamarca, Colombia: Universidad Nacional de Colombia.

Ulloa, A. (2001). El Nativo Ecológico: Movimientos Indígenas y Medio Ambiente en Colombia. Bogotá: Universidad Nacional de Colombia.

Vargas Chavez, A. & Segura Rodríguez, M. (2013). Inclusión de la comunicación para la consulta previa con indígenas: un aporte para el ishtana de la etnia Barí. Monografía para optar por el título de Comunicador Social y Periodista. Facultad de Comunicación, Universidad de la Sabana. Bogotá, Colombia.

Vilá Baños. R. (2007). Comunicación intercultural. Materiales para secundaria. Madrid: Narcea Ediciones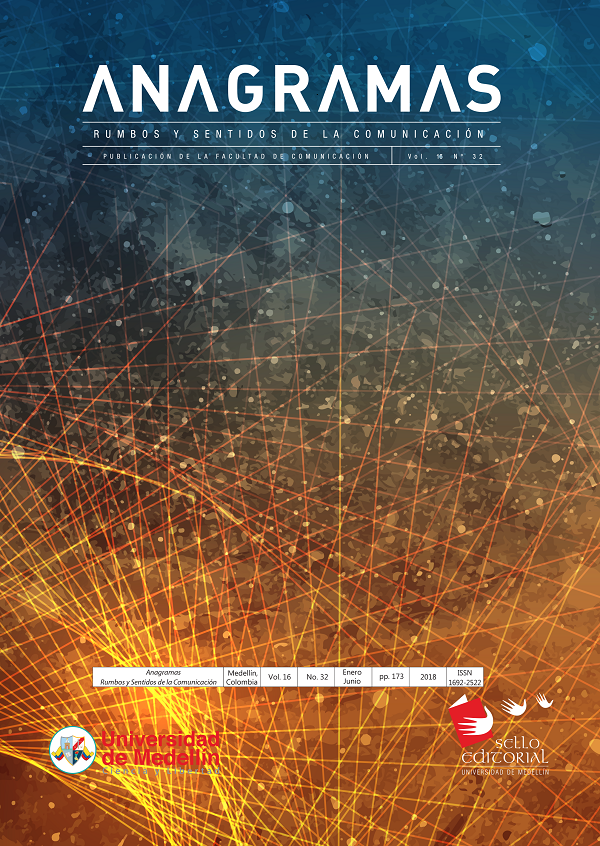 How to Cite
Betancur Prisco, L., Vásquez Restrepo, M., Betancur Rodríguez, V., & Herrera Pulgarin, J. (2018, June 10). Intercultural Communication Strategies for the Implementation of the Law of Victims with Indigenous Communities: The Case of the Emberá Katío Choromandó Community in Dabeiba (Antioquia). Anagramas Rumbos Y Sentidos De La Comunicación, 16(32), 129-146. https://doi.org/https://doi.org/10.22395/angr.v16n32a8
This work is licensed under a Creative Commons Attribution-NonCommercial 4.0 International License.
Total or partial reproduction of the contents of the journal are authorized for educational, investigative or academic purposes as long as the source is cited. In order to make reproductions for other purposes, it is necessary to have the express authorization of the imprint or Sello Editorial of the Universidad de Medellín.