Implementation of audiovisual resources as an educational validation strategy
Abstract
This paper is the outcome of a quasi-experimental research, whose objective was to validate an educational strategy aimed at implementing audiovisual learning resources in educational institutions. Its theoretical foundation was configured through two variables: educational practices (dependent variable), and audiovisual resources (independent variable). With a control group model comprised of 11th grade students from the Institución Educativa Camilo Torres of Mocarí (Montería, Colombia), it was possible to identify the most frequent learning needs of secondary education students, to classify the audiovisual educational resources available to the teachers, and to model, implement and validate an educational strategy by assembling three audiovisual products, three radio programs, and a blog.
References

Blázquez, F. (1994). Propósitos formativos de las nuevas tecnologías de la información y la comunicación en la formación de maestros. En F. Blázquez, J. Cabero y F. Loscertales (Eds.), Nuevas tecnologías de la información y la comunicación (pp. 257-268). Sevilla: Alfar.

Cabero, J. (1998). Usos e integración de los medios audiovisuales y las nuevas tecnologías en el currículum. Recuperado de

http://ardilladigital.com/DOCUMENTOS/TECNOLOGIA%20EDUCATIVA/TICs/T2%20NNTT%20Y%20N%20ED/CABERO%20NNTT%20Y%20CURRICULUM.pdf

Crovi, D. (2010). El entramado reticular de la educación: una mirada desde la comunicación. En R. Aparici (Coord.), Educomunicación: más allá del 2.0 (pp. 105-128). Barcelona: Gedisa.

Díaz, E., Alvarino, G. y Carrascal, N. (2011). Enfoques de aprendizaje y niveles de compresión, El ambiente universitario en ambientes tecnológicos. Montería: SUE Caribe. Recuperado de

https://issuu.com/librosisabel/docs/enfoques_aprendizaje_niveles_compresi_n

Escudero, J. (1995). La integración de las nuevas tecnologías en el currículum y en el sistema escolar. En J. L. Rodríguez Diéguez y Ó. Sáenz (Coords.), Tecnología educativa: nuevas tecnologías aplicadas a la educación (pp.397-412). Navarra: Marfil.

Freire, P. (1973). ¿Extensión o comunicación? La concientización en el medio rural. Buenos Aires: Siglo XXI.

Gall, E. (2005). Prácticas educomunicativas: miradas sobre lo inacabado. Recuperado de

https://www.usp.br/nce/?wcp=/aeducomunicacao/saibamais/textos/texto,2,46,268

Gutiérrez, A. (2010). Creación multimedia y alfabetización en la era digital. En R. Aparici (Coord.), Educomunicación: más allá del 2.0 (pp. 171-186). Barcelona: Gedisa.

Hernández, R., Fernández, C. y Baptista, P. (1999). Metodología de la Investigación. México: McGraw Hill.

Jackson, P. (1992). La vida en las aulas. Madrid: Morata.

Mallas, S. (1979). Medios audiovisuales y pedagogía activa. Barcelona: CEAC.

Marrero, J. (1993). Las teorías implícitas del profesorado: vínculo entre la cultura y la práctica de la enseñanza. En M. J. Rodrigo, A. Rodríguez y J. Marrero (Eds.), Las teorías implícitas: una aproximación al conocimiento cotidiano (pp. 243-276). Madrid: Visor.

Porcher, L. (1974). La escuela paralela. Buenos Aires: Kapelusz.

Rodríguez, N. (1996). Modelos y medios. Aula Abierta, (66). 3-30.

Salinas, J. (1987). Mass-media y educación social. en A. Colom (Ed.), Modelos de intervención socioeducativa (pp. 252-276). Madrid: Narcea.
Author Biographies

Julián Darío Forero Sandoval,

Universidad Pontificia Bolivariana Montería

Comunicador social-periodista, magíster en Educación, integrante del grupo Coedu. Escuela de Ciencias Sociales y Humanas, Universidad Pontificia Bolivariana. julian.forero@upb.edu.co Orcid: 0000-0002-5283-8425.

Estela Mireya Díaz Buitrago,

Institución Educativa José María Córdoba, Montería

Licenciada en Informática Educativa y Medios Audiovisuales, magíster en Educación, docente, coordinadora académica de la Institución Educativa José María Córdoba, Montería. estela_mireya@hotmail.com Orcid: 0000-0002-5793-0298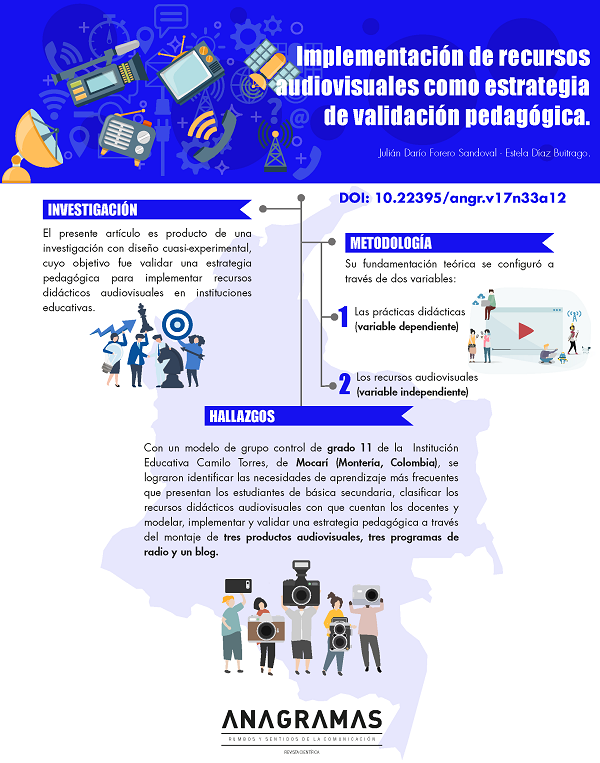 How to Cite
Forero Sandoval, J. D., & Díaz Buitrago, E. M. (2018). Implementation of audiovisual resources as an educational validation strategy. Anagramas Rumbos Y Sentidos De La Comunicación, 17(33), 275-291. https://doi.org/10.22395/angr.v17n33a12
Downloads
Download data is not yet available.
Copyright (c) 2019 Anagramas Rumbos y Sentidos de la Comunicación
This work is licensed under a Creative Commons Attribution-NonCommercial 4.0 International License.
Total or partial reproduction of the contents of the journal are authorized for educational, investigative or academic purposes as long as the source is cited. In order to make reproductions for other purposes, it is necessary to have the express authorization of the imprint or Sello Editorial of the Universidad de Medellín.