La estética televisiva en las series contemporáneas
Ruth Gutiérrez Delgado

anagramas@udem.edu.co

Abstract
Entre los aspectos más complejos en el estudio de series de ficción se encuentra la dimensión estética. Desde el origen, los TV Studies se han centrado sobre todo en señalar otras cuestiones más fenomenológicas y técnicas como la evolución de la industria, las incidencias del mercado, el influjo socio-cultural sobre los contenidos, el papel de las ideologías e, incluso, el reflejo del curso de la historia en las obras audiovisuales o lo que estas han aportado a la historia.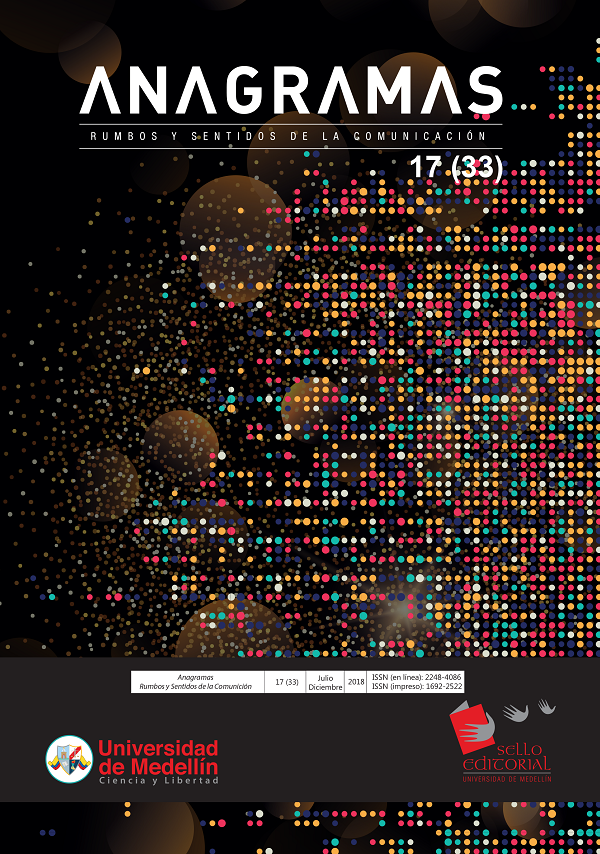 How to Cite
Gutiérrez Delgado, R. (2018). La estética televisiva en las series contemporáneas. Anagramas Rumbos Y Sentidos De La Comunicación, 17(33), 293-297. Retrieved from https://revistas.udem.edu.co/index.php/anagramas/article/view/2721
Downloads
Download data is not yet available.
Copyright (c) 2019 Anagramas Rumbos y Sentidos de la Comunicación
This work is licensed under a Creative Commons Attribution-NonCommercial 4.0 International License.
Total or partial reproduction of the contents of the journal are authorized for educational, investigative or academic purposes as long as the source is cited. In order to make reproductions for other purposes, it is necessary to have the express authorization of the imprint or Sello Editorial of the Universidad de Medellín.