Social Networks and its Relation with the Function of the Political Communicator
Keywords:
communication, politics, political communication, social media, information society, massive communication, public opinion, communication process
Abstract
This article has as its main goal making evident the importance that social networks have in the current political scenario as a fundamental communicative tools for the work of the political communicator, whom is responsible for designing and developing a full political communication strategy, i.e., as complementary instruments to the traditional media associated with its context and profession. For that, the research employs a mixed, descriptive, and exploratory methodology based in the observation, polling and non-structured interview techniques for displaying the crucial relation existing between social networks and political communication. In this context, social networks are a strategic communication media and are part of the success of a political campaign. For making evident this relation, the research employed three stages: 1) documents exploration and citizen behaviors surrounding the use of social networks as a political mechanism; 2) analysis and perception by experts in the field; and 3) correlation of the exploration and previous analysis for the generation of results and conclusions. The above proves the existence of a great interest in this new electoral contest associated with virtuality, which has to be considered and analyzed for understanding the course taken by this important process of social participation, as well as how to take advantage of it to reach the present political success. In this sense, the research concludes that social networks today are a transcendental communication media, which has to be articulated alongside the usual ways of performing politics while bearing in mind necessarily this new reality. 
References

Abaplaza-Campos, A. (2017). La comunicación digital. Redes sociales, nuevas audiencias y convergencia. https://observatoriocibermedios.upf.edu/la-comunicacion-digital-resena

Abejón-Mendoza, P., Carrasco-Polaino, R. y Garralón, M. L. (2019). Efecto de los post en Facebook de los principales candidatos españoles en las elecciones generales de 2016 sobre la polarización de la sociedad. Historia y Comunicación Social, 24(2), 599-613. https://doi.org/10.5209/hics.66302

Álvarez-García, A. M. (2010). Principales efectos y ventajas del uso de las nuevas tecnologías en las campañas electorales. Cuadernos de Información y Comunicación, 15, 55-84. https://core.ac.uk/download/pdf/38810806.pdf

Anderson, S. (2015). La comunicación política en redes sociales. Creación y Producción en Diseño y Comunicación, 12(71), 13-15. https://fido.palermo.edu/servicios_dyc/publicacionesdc/vista/detalle_articulo.php?id_libro=587&id_articulo=12182

Baena-Paz, G. (2014). El político como comunicador. Revista Mexicana de Comunicación, 1(16), 1-8.

Barberio, V., Kuric, I., Mollona, E. y Pareschi, L.. (2020). The use of social media in EU policy communication and implications for the emergence of a European public sphere. Investigaciones Regionales, (46), 111-129. https://investigacionesregionales.org/wp-content/

uploads/sites/3/2020/04/6.-Barberio_vf.pdf

Briones-Martín, B. (2014). El uso de las redes sociales para las campañas políticas. https://repositorio.comillas.edu/xmlui/bitstream/handle/11531/452/TFG000363.pdf?sequence=1

Campos-Domínguez, E. y García-Orosa, B. (2018). Comunicación algorítmica en los partidos políticos: automatización de producción y circulación de mensajes. El Profesional de la Información, 27(4), 769-777. https://doi.org/10.3145/epi.2018.jul.06

Cansino, C., Calles-Santillana, J. y Echeverría, M. (2016). Del Homo Videns al Homo Twuitter. Democracia y redes sociales. Consejo Latinoamericano de Ciencias Sociales–Clacso.

Cárdenas, A., Ballesteros, C. y Jara, R. (2017). Redes sociales y campañas electorales en Iberoamérica. Un análisis comparativo de los casos de España, México y Chile. Cuadernos. Info, (41), 19-40. https://doi.org/10.7764/cdi.41.1259

Castells, M. (2012). Redes de indignación y esperanza. Movimientos sociales en la era de Internet. Alianza Editorial S. A.

Crespo-Pereira, V., López-López, P. C. y Jaráiz-Gulías, E. (2020). La influencia de las redes sociales en los medios de comunicación y en la participación política. RISTI–Revista Ibérica de Sistemas e Tecnologias de Informação, (26), 11-13. https://doi.org/10.13140/RG.2.1.1979.6005

Cunha-Carlomagno, M., Soares-Braga, S. y Cardoso Sampaio, R. (2018). Respondem os políticos a questionamentos dos eleitores? Um experimento controlando os incentivos de mensagem, período e meio. Opinião Pública, 24(2), 328-364. https://doi.org/10.1590/1807-01912018242328

Delgado-Gil, J. S. (2017). Las redes sociales y la democratización de la política. https://mundogosocial.com/redes-sociales-y-democratizacion-politica/

Departamento Administrativo Nacional de Estadística, DANE. (2018). Censo Nacional de Población y Vivienda 2018, Datos Preliminares. https://www.dane.gov.co/index.php/estadisticas-por-tema/demografia-y-poblacion/censo-nacional-de-poblacion-y-vivenda-2018/cuantos-somos

Domínguez, N. (2012). Política 2.0: el uso de las redes sociales en la política argentina. Anuario Electrónico de Estudios en Comunicación Social "Disertaciones", 5(1), 77-104. https://revistas.urosario.edu.co/index.php/disertaciones/article/view/3889/2817

El Adawiyah, S., Hubeis, A. V. S., Sumarti, T. y Susanto, D. (2019). The role of women in regional leadership as political communicators. Opción, 35(21), 464-481. https://produccioncientificaluz.org/index.php/opcion/article/view/24710/25219

Eskibel, D. (2016). Maquiavelo & Freud Premium. Psicología política para ganar elecciones (2da ed.). Laboratorio de Estrategia Política.

Espino-Sánchez, G. (2011). La transformación de la comunicación política en las campañas presidenciales de México. Convergencia, 18(56), 59-86. http://www.scielo.org.mx/pdf/conver/v18n56/v18n56a3.pdf

Gallardo, D., Guzmán, C., Barba, J. y Valencia, J. (2019). Influence of social networks on teenagers' social skills. Advances in Intelligent Systems and Computing, 1110, 45-56. https://doi.org/10.1007/978-3-030-37221-7_5

García-Guitián, E. (2016). Democracia digital. Discursos sobre participación ciudadana y TIC. Revista de Estudios Políticos, 173, 169-193. https://doi.org/10.18042/cepc/rep.173.05

García-Ruiz, R., Tirado-Morueta, R. y Gómez, A. H. (2018). Redes sociales y estudiantes: motivos de uso y gratificaciones. Evidencias para el aprendizaje. Aula Abierta, 47(3), 291-298. https://doi.org/10.17811/rifie.47.3.2018.291-298

Holgado-González, M. (2003). El papel de los medios de comunicación en la campaña electoral. Ámbitos. Revista Internacional de Comunicación, (9-10), 1-10. https://idus.us.es/bitstream/handle/11441/67476/16801025.pdf?sequence=1&isAllowed=y

Knöbl, W. (2017). Observaciones sobre el concepto de modernidad. Sociología Histórica, (7), 167-185. https://dialnet.unirioja.es/descarga/articulo/6341749.pdf

López-Marín, A. (2015). Función de los blogs durante la crisis del periodismo en España [tesis de doctorado], Universidad Complutense de Madrid, España. https://eprints.ucm.es/38080/1/T37362.pdf

Molina-Carrillo, J. G. (2019). Política y redes sociales. http://www.milenio.com/opinion/julian-german-molina-carrillo/sociedad-derechos-humanos/politica-y-redes-sociales

Paniagua-Rojano, F., Seoane-Pérez, F. y Magallón-Rosa, R. (2020). Anatomía del bulo electoral:la desinformación política durante la campaña del 28-A en España. Revista Cidob d'Afers Internacionals, (124), 123-145. https://doi.org/10.24241/rcai.2020.124.1.123

Rizo-García, M. (2006). George Simmel, sociabilidad e interacción. Aportes a la ciencia de la comunicación. Cinta Moebio, (27), 43-60. https://www.redalyc.org/articulo.oa?id=10102705

Rodríguez-Andrés, R. (2018). Fundamentos del concepto de desinformación como práctica manipuladora en la comunicación política y las relaciones internacionales. Historia y Comunicación Social, 23(1), 231-244. https://doi.org/10.5209/HICS.59843

Rúas-Araújo, X. y Casero-Ripollés, A. (2018). Comunicación política en la época de las redes sociales: lo viejo y lo nuevo, y más allá. adComunica. Revista Científica de Estrategias, Tendencias e Innovación en Comunicación, (16), 21-24. http://www.e-revistes.uji.es/index.php/adcomunica/article/view/4984/5331

Ryabchenko, N. A., Malysheva, O. P. y Gnedash, A. A. (2019). Presidential campaign in post-truth era: Innovative digital technologies of political content management in social networks politics. Polis: Politicheskie Issledovaniya, (2), 92-106. https://doi.org/10.23932/2542-0240-2019-12-6-1

Smith, K. (2018). 116 estadísticas interesantes de las redes sociales- Tendencias del marketing y análisis en 2018. https://www.brandwatch.com/es/blog/116-estadisticas-de-las-redes-sociales/

Vardiansyah, D. y Delliana, S. (2020). The impact of digital labor: Innovation or exploitation? (Critical perspective of Christian Fuchs on economy politics of social media). International Journal of Advanced Science and Technology, 29(5), 620-625. http://sersc.org/journals/index.php/IJAST/article/view/7697/4481

Vásquez-Rizo, F. E. (2012). Educación y tecnología: relación vital en la sociedad del conocimiento. En: Corporación Colombia Digital (Org.). Aprender y educar con las tecnologías del Siglo XXI (pp. 71-82). Corporación Colombia Digital. https://libros.metabiblioteca.org/bitstream/001/502/1/Libro-Aprender-y-Educar.pdf

We Are Social. (2019). Global Digital Report 2019. https://wearesocial.com/global-digital-report-2019
Author Biographies

Fredy Eduardo Vásquez-Rizo,

Universidad Autónoma de Occidente

Doctor en Gestión de la Información y de la Comunicación en las Organizaciones, Universidad de Murcia, Murcia, España. Magíster en Ciencias de la Información y Administración del Conocimiento, Instituto Tecnológico de Estudios Superiores de Monterrey-ITESM, Monterrey, México. Comunicador social y periodista, Universidad Autónoma de Occidente, Cali, Colombia. Jefe Departamento de Comunicación, Facultad de Comunicación y Ciencias Sociales, Universidad Autónoma de Occidente, Cali, Colombia.

Melissa Murgueitio-Echeverri,

Universidad Autónoma de Occidente

Comunicadora social y periodista, Universidad Autónoma de Occidente, Cali, Colombia.

María Alejandra Jiménez-Trochez,

Universidad Autónoma de Occidente

Comunicadora social y Periodista, Universidad Autónoma de Occidente, Cali, Colombia.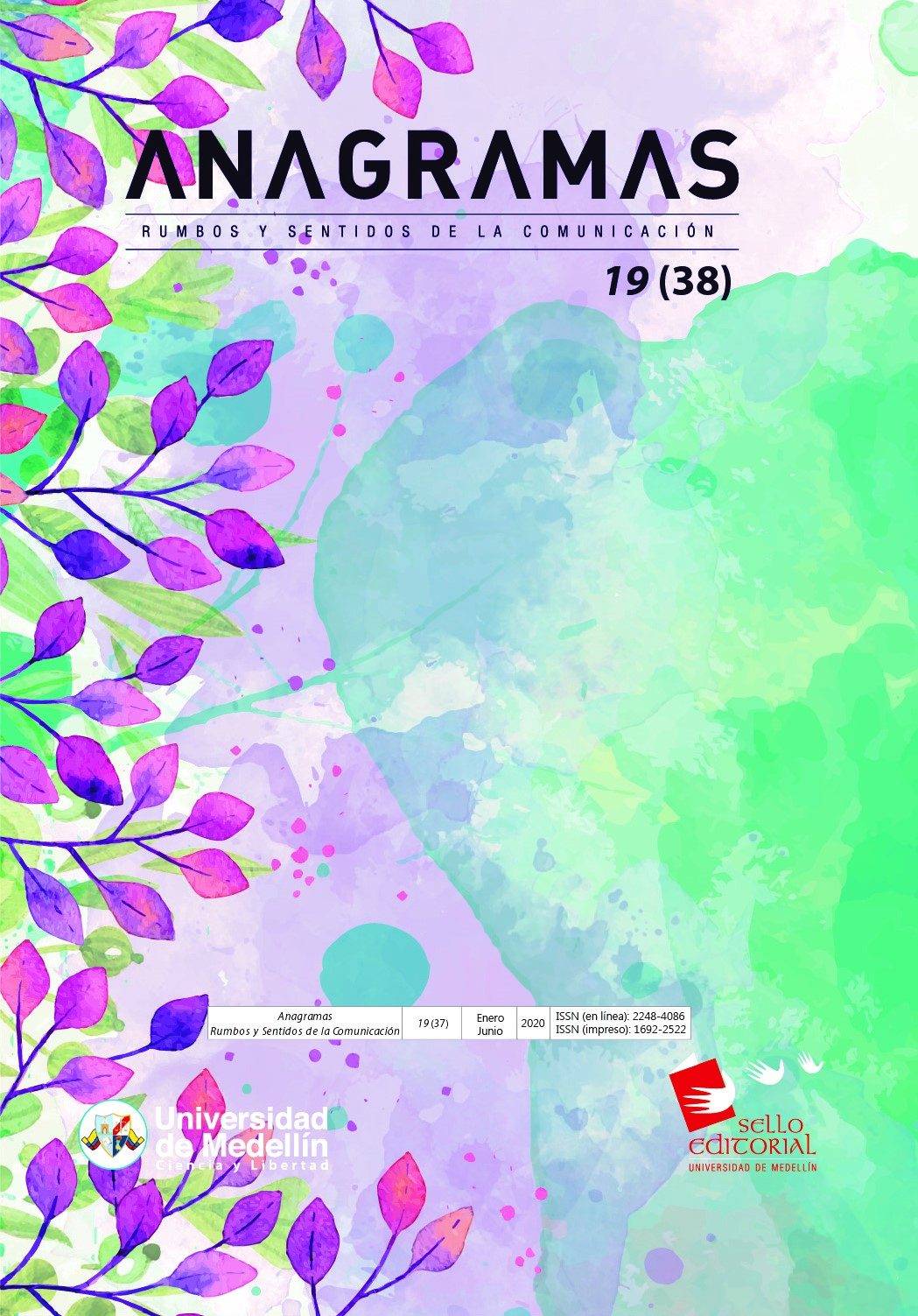 How to Cite
Vásquez-Rizo, F. E., Murgueitio-Echeverri, M., & Jiménez-Trochez, M. A. (2021). Social Networks and its Relation with the Function of the Political Communicator. Anagramas Rumbos Y Sentidos De La Comunicación, 19(38), 69-86. https://doi.org/10.22395/angr.v19n38a4
Downloads
Download data is not yet available.
Copyright (c) 2020 Anagramas Rumbos y Sentidos de la Comunicación
This work is licensed under a Creative Commons Attribution-NonCommercial 4.0 International License.
Total or partial reproduction of the contents of the journal are authorized for educational, investigative or academic purposes as long as the source is cited. In order to make reproductions for other purposes, it is necessary to have the express authorization of the imprint or Sello Editorial of the Universidad de Medellín.