Divergencias digitales a partir de las convergencias digitales. La experiencia de Capicúa en Telemedellín 2.0
Juan Mauricio Vélez Lotero

jmvelez@udem.edu.co
Universidad de Medellín

Abstract
El siguiente artículo presenta los resultados de la investigación sobre la función quecumple la narrativa multimedial del programa infantil de televisión Capicúa en eldesarrollo de habilidades de aprendizaje en los Capiamiguitos entre 8 y 11 años queutilizan el modelo convergente de televisión e Internet. Analiza, desde la apreciaciónde los espectadores, los contenidos y el análisis textual de la televisión y la web 2.0,la forma como la narrativa audiovisual, el lenguaje multimedial y la interactividadposibilitan la apropiación de conocimientos en los usuarios. Demuestra cómo desdeel conocimiento informal de la convergencia digital se están creando una serie dedivergencias digitales que logran transmitir el conocimiento formal para desarrollarhabilidades en los espectadores y telenautas del programa
Downloads
Download data is not yet available.
Author Biography

Juan Mauricio Vélez Lotero,

Universidad de Medellín

Comunicador social-periodista de la UPB, especialista en Pedagogía de la Virtualidad de la Católica del Norte, maestrando en E-Learnigde la UNAB-UOC, Investigador principal del proyecto, Jefe del Programa de Comunicación y Lenguajes Audiovisuales de la Facultad deComunicación de la Universidad de Medellín, Colombia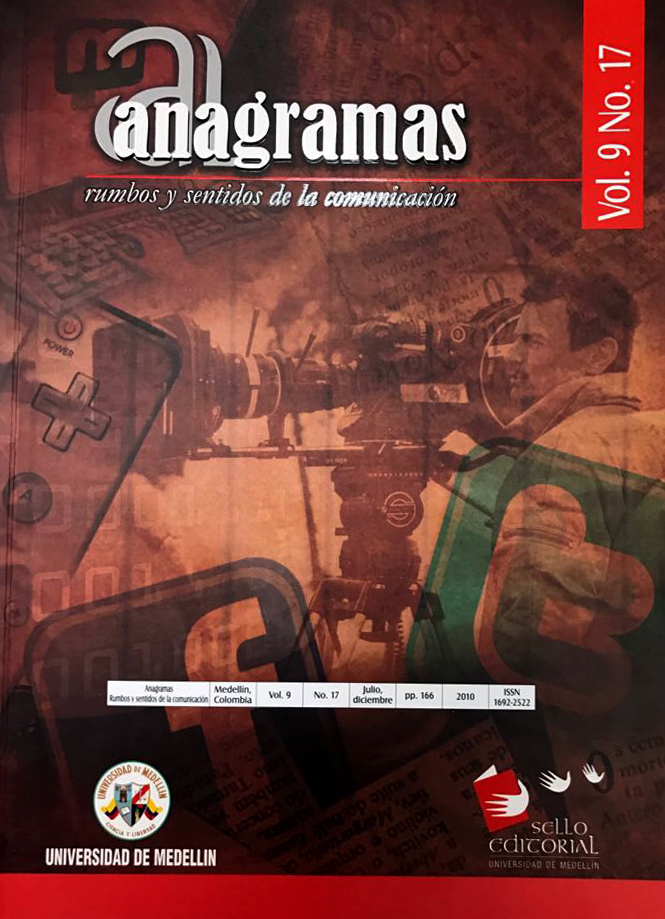 How to Cite
Vélez Lotero, J. (11). Divergencias digitales a partir de las convergencias digitales. La experiencia de Capicúa en Telemedellín 2.0. ANAGRAMAS RUMBOS Y SENTIDOS DE LA COMUNICACIóN, 9(17). https://doi.org/10.22395/angr.v9n17a2
This work is licensed under a Creative Commons Attribution-NonCommercial 4.0 International License.
Total or partial reproduction of the contents of the journal are authorized for educational, investigative or academic purposes as long as the source is cited. In order to make reproductions for other purposes, it is necessary to have the express authorization of the imprint or Sello Editorial of the Universidad de Medellín.