Communication and Democratization Policies. Clues of a History toward the Sanction of Audio-visual Communication Service Law in Argentina
Víctor Humberto Guzmán

vhg1978@gmail.com


Universidad Nacional de Córdoba
Keywords:
communication, democratization, communication policies, UNESCO, Audio-visual Communication Service Law
Abstract
This research focuses in an effort for making a history some possibilities to
sanction audio visual communication service law in Argentina. This process is understood as a result – among many others- of the historical fight for communication democratization which according to the our understanding – as we will mention later- is the society democratization.


Author Biography

Víctor Humberto Guzmán,

Universidad Nacional de Córdoba

Becario doctoral de la Secretaría de Ciencia y Tecnología de la Universidad Nacional de Córdoba (SECyTUNC-Argentina) en el programa de Estudios Sociales de América Latina del Centro de Estudios Avanzados(CEA) de la UNC. Además, es tesista de la Maestría en Comunicación y Cultura Contemporánea (CEA-UNC).Actualmente es integrante de los programas de investigación "Democracia y Ciudadanía en Sudamérica"(CEA-UNC) e "Imaginario, Acción Social y Cambio Social" (Centro de Investigaciones y Estudios sobreCultura y Sociedad, CONICET). Realiza su investigación sobre democracia, comunicación y política.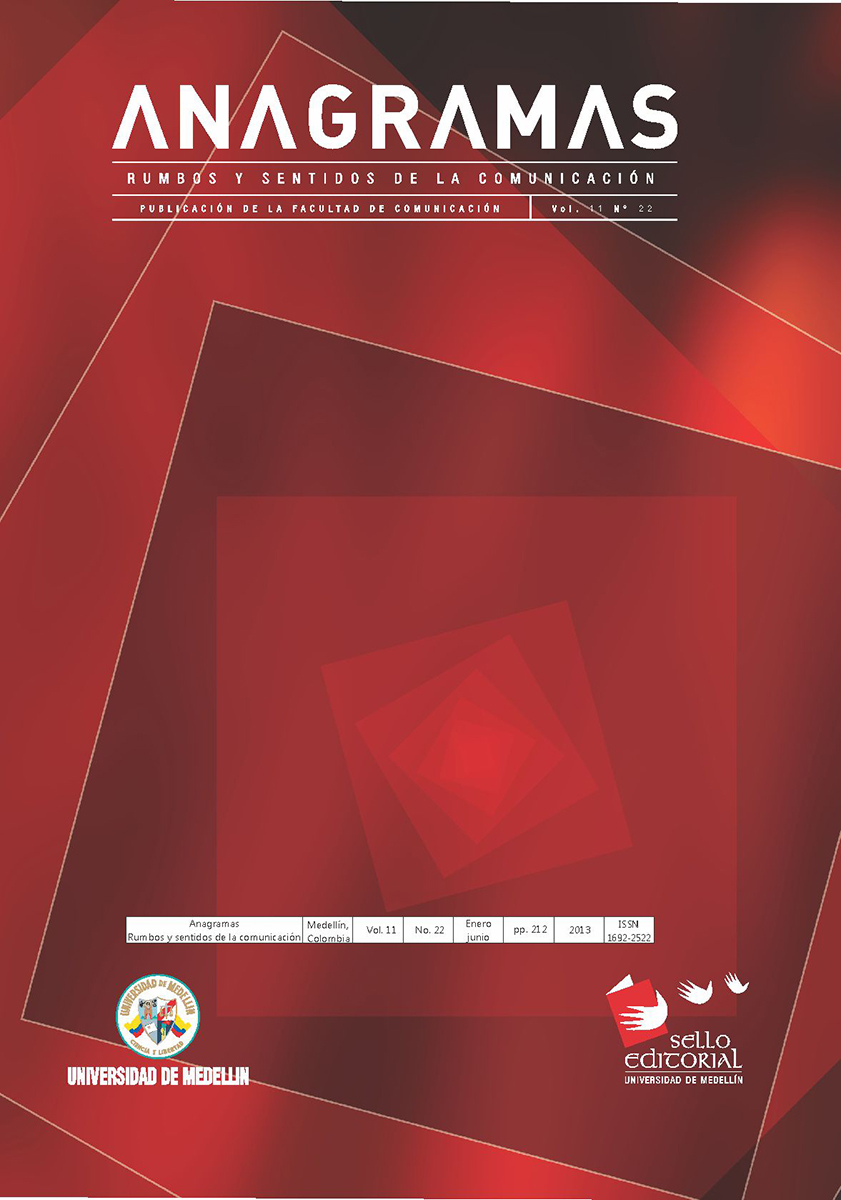 How to Cite
Guzmán, V. H. (1). Communication and Democratization Policies. Clues of a History toward the Sanction of Audio-visual Communication Service Law in Argentina. Anagramas Rumbos Y Sentidos De La Comunicación, 11(22). https://doi.org/10.22395/angr.v11n22a1
Downloads
Download data is not yet available.
Copyright (c) 2014 Anagramas
This work is licensed under a Creative Commons Attribution-NonCommercial 4.0 International License.
Total or partial reproduction of the contents of the journal are authorized for educational, investigative or academic purposes as long as the source is cited. In order to make reproductions for other purposes, it is necessary to have the express authorization of the imprint or Sello Editorial of the Universidad de Medellín.