Identity Negotiations on the Native and Ethnic Colombian Radio: Three Study Cases
Enrique Uribe-Jongbloed

Enrique.uribe@unisabana.edu.co


Universidad de la Sabana

María Fernanda Peña Sarmiento

mfpena@uniminuto.edu


Universidad Minuto de Dios
Keywords:
Identity, minority languages, native radio, culture, ethnic group, negotiation, inclusion
Abstract
The topic of native and ethnic radio, as part of the lack of
research on radio in Colombia, has been poorly developed
(Cuesta Moreno, 2012a, 2012b). This article shows three study
cases: Radio Nasa of Nasa Community, Jujunula Makuira of Wayuu
Community, and Al A With A Wan program of native community
from San Andrés island; it also explores the identity perspectives
that find negotiation spaces in radio production, especially the
relationship of their collective identity and the way it affects or
determines its linguistic use. This research is based on a threestage
process where producers (practice communities) (Wenger,
1998) make a reflection on their function and issue concepts on
the way their identity is reflected from the construction of their
programming. Results show that several levels of affiliation to
several identification facets make it possible to relate, in several
manners, the communication work of radio and that these
identifications present in the practice communities have a real
impact on the linguistic radio production of each community.
Author Biographies

Enrique Uribe-Jongbloed,

Universidad de la Sabana

Profesor Asistente, Facultad de Comunicación, Universidad de La Sabana. Campus Puente del Común, Chía, 250001, Colombia.

María Fernanda Peña Sarmiento,

Universidad Minuto de Dios

Profesora Asistente de la Facultad de Ciencias de la Comunicación de la Universidad Minuto de Dios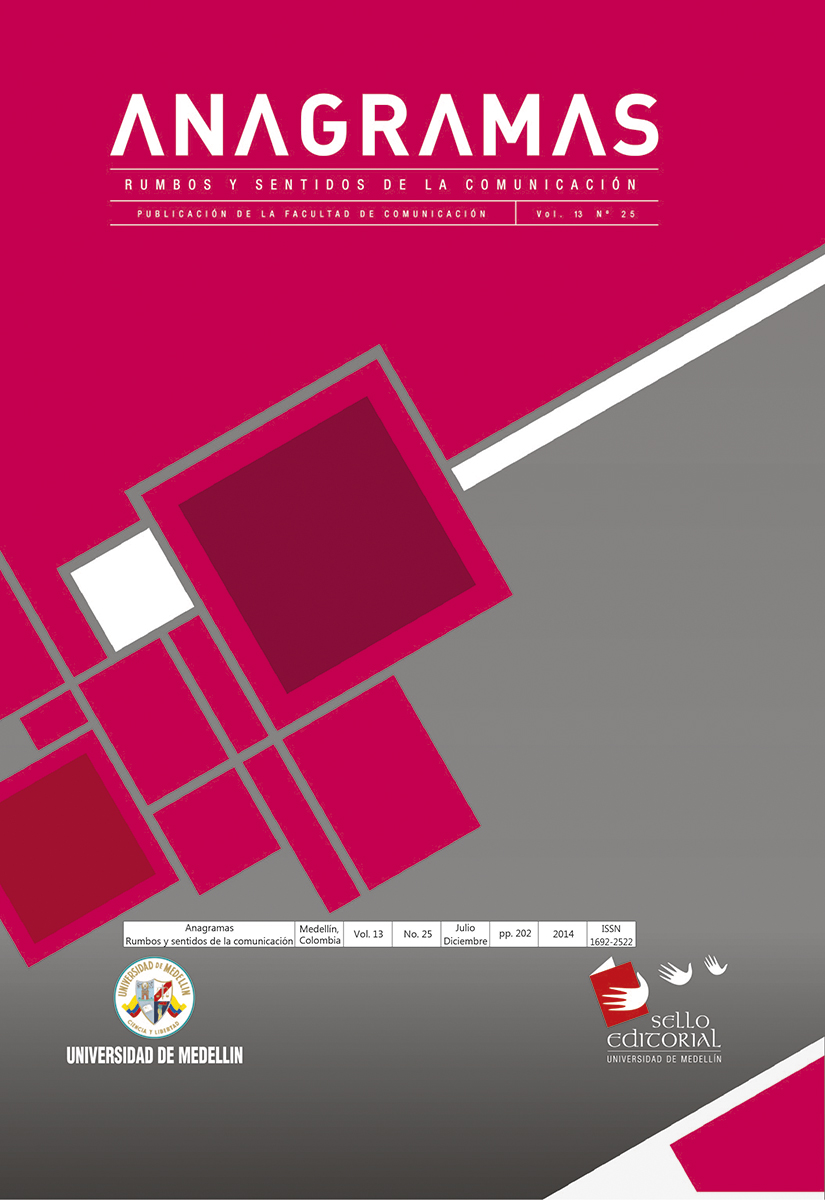 How to Cite
Uribe-Jongbloed, E., & Peña Sarmiento, M. F. (1). Identity Negotiations on the Native and Ethnic Colombian Radio: Three Study Cases. Anagramas Rumbos Y Sentidos De La Comunicación, 13(25), 167-188. https://doi.org/10.22395/angr.v13n25a9
Downloads
Download data is not yet available.
Copyright (c) 2015 Anagramas
This work is licensed under a Creative Commons Attribution-NonCommercial 4.0 International License.
Total or partial reproduction of the contents of the journal are authorized for educational, investigative or academic purposes as long as the source is cited. In order to make reproductions for other purposes, it is necessary to have the express authorization of the imprint or Sello Editorial of the Universidad de Medellín.