Diseño de una plataforma web para toma de decisiones en salud ambiental: caso de estudio en Colombia
Palabras clave:
sistemas de información geográfica, minería de datos, salud, medioambiente, plataforma web, H. Pylori
Resumen
Muchas plataformas para salud ambiental se han diseñado considerando un solo actor de la salud ambiental. Estas plataformas utilizan herramientas propietarias y no integran todos los componentes de la salud ambiental. Este artículo describe el diseño de una plataforma web basada en software libre para el análisis de la salud ambiental llamado PSAM. Varios actores fueron incluidos en el diseño, incluidas las autoridades ambientales y de salud, y la comunidad. PSAM tiene diversos módulos para recopilar y analizar información usando dispositivos móviles, así como para predecir la aparición de H. Pylori y enviar SMS a la comunidad para el empoderamiento comunitario. La arquitectura propuesta y las lecciones aprendidas pueden servir como base para otras implementaciones en el campo y pueden contribuir al desarrollo de la plataforma del gobierno de Colombia para la salud ambiental.
Referencias

[1] A. Prüss-Ustün, S. Bonjour, C. Corvalan, "The impact of the environment on health by country: a meta-synthesis," Environmental Health: Vol 7, pp. 7 -17, 2008.

[2] D. Mara, "Water, sanitation and hygiene for the health of developing nations," Public Health, Vol. 117, n.o 6, pp. 452-56, 2003.

[3] Departamento Nacional de Planeación, CONPES 3550: Lineamientos para la formulación de la política integral de salud ambiental, 2008, [online] Available: http://webcache.googleusercontent.com/search?q=cache:KKsrO2dUxRUJ:www.minambiente.gov.co/images/normativa/conpes/2008/Pres_salud_ambiental_conpes_3550__2008conasa_mavdt.ppt+&cd=1&hl=es&ct=clnk&gl=co

[4] Banco Mundial, Prioridades ambientales para la reducción de la pobreza en Colombia un análisis ambiental del país para Colombia", 2008 [online] Available: http://documentos.bancomundial.org/curated/es/539291468027601756/Prioridades-ambientales-para-lareduccion-de-la-pobreza-en-Colombia-un-analisis-ambiental-del-pais-para-Colombia

[5] Z. Zulkafi, K. Pérez, C. Vitolo, W. Buytaert, W. Karpouzoglou, S. Shaheed. User-driven design of decision support systems for polycentric environmental resources management, Environmental Modelling & Software, Vol. 88, pp. 58–73, 2017.

[6] K. Huang, Y. Mingquing, "GIS-Based Environmental Health Management", presented at International Conference on Environmental Science and Information Application Technology (ESIAT), Wuhan, 2010.

[7] Y. Wang, C. Mchugh, "Modeling the Health Impacts of Air Pollution Exposures in London within the GENESIS System," presented at International Symposium on Water Resource and Environmental Protection (ISWREP), Xi'an, China, 2011.

[8] European Centre for Environment and Health, "Implementing environment and health information system in europe, Final Technical Report Grant Agreement SPC 2003112", 2005, [online], available: http://ec.europa.eu/health/ph_projects/2003/action1/docs/2003_1_28_frep_en.pdf

[9] L. Li, L. Xu, H. Jeng, D. Naik, T. Allen, M. Frontini, "Creation of environmental health information system for public health service: A pilot study", Information Systems frontier, vol 10, pp. 531–542, 2008.

[10] S.J. Manuel, H.J. Alberto, A.F. Jacob, "Sensor System Based in Neural Networks for the Environmental Monitoring", Ingeniería, Investigación y Tecnología, vol 17, n.° 2, pp. 211–22, 2016.

[11] M. Boulos, B, Resch, D. N. Crowley, J. Breslin, G. Sohn, R. Burtner, "Crowdsourcing, citizen sensing, and sensor web technologies for public and environmental health surveillance and crisis management: trends, OGC standards and application examples," International Journal of Health Geographics, vol 10, pp. 1-29, 2011.

[12] L. Escobar, "Indicadores sintéticos de calidad ambiental: un modelo general para grandes zonas urbanas," Eure (Santiago), vol. 32, n.º 96, pp. 73-98, 2006.

[13] SurveGizmo, [online], available: https://www.surveygizmo.com

[14] SurveySparrow, [online], available: https://surveysparrow.com

[15] University of Waikato, [online], available: https://www.cs.waikato.ac.nz/ml/weka/
Biografía del autor/a

Armando Ordonez,

Fundación Universitaria de Popayán

Carlos H. Sierra-Torres,

Universidad del Cauca

Jessner Mejia,

Fundación Universitaria de Popayán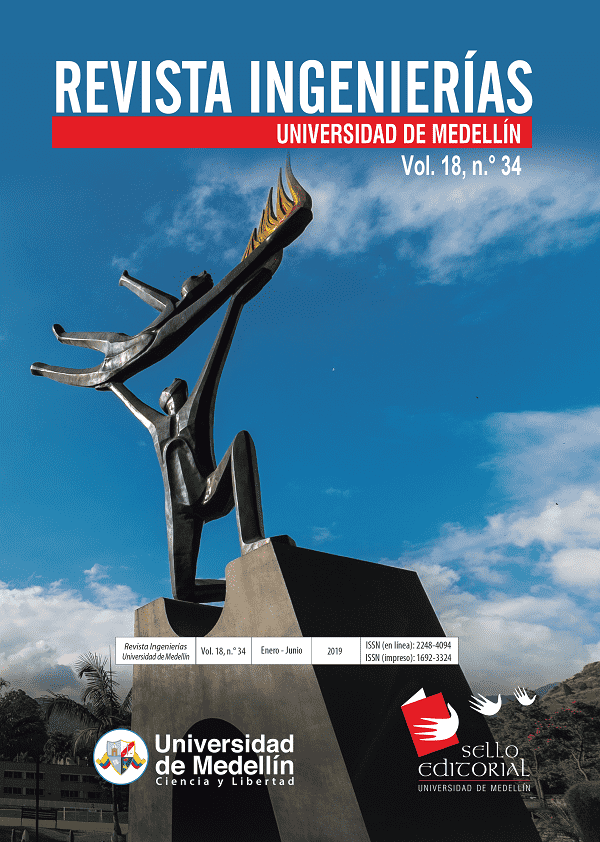 Cómo citar
Ordonez, A., Sierra-Torres, C. H., & Mejia, J. (2019). Diseño de una plataforma web para toma de decisiones en salud ambiental: caso de estudio en Colombia. Revista Ingenierías Universidad De Medellín, 18(34), 57-69. https://doi.org/10.22395/rium.v18n34a4
Descargas
La descarga de datos todavía no está disponible.
Derechos de autor 2019 Revista Ingenierías Universidad de Medellín
Esta obra está bajo licencia internacional
Creative Commons Reconocimiento-NoComercial-SinObrasDerivadas 4.0
.
Queda autorizada la reproducción total o parcial de los contenidos de la revista con finalidades educativas, investigativas o académicas siempre y cuando sea citada la fuente. Para poder efectuar reproducciones con otros propósitos, es necesario contar con la autorización expresa del Sello Editorial Universidad de Medellín.