Los mass media y la encrucijada del cuerpo
Horacio Pérez Henao

hperez@udem.edu.co


Universidad de Medellín
Abstract
La relación cuerpo y medios de comunicación es problematizada aquí desde una, perspectiva crítica. El ensayo parte deja idea de que los rmss meáia han construido, a través de su estructura y lógica particulares, un concepto de cuerpo que emerge como sjupravalqr en el contexto de la época actual. Pero que en última instancia no puede ser localizado en los terrenos de una axiología humana, sino, más bien, en los resortes propios del mercado masmediático.
Author Biography

Horacio Pérez Henao,

Universidad de Medellín

Licenciado en Idiomas –Inglés, español y literatura– Universidad Pontificia Bolivariana. Sociólogo, Universidad de Antioquia. Comunicador Social-Periodista, Universidad Pontificia Bolivariana. Estudios de posgrado en periodismo, Social Sciences and Tesol, University of Missouri, EE. UU. Magíster en Literatura, University of Nebraska-Lincoln, EE.UU. Se ha desempeñado como periodista de la Organización de Estados Americanos O.E.A., y de CNN.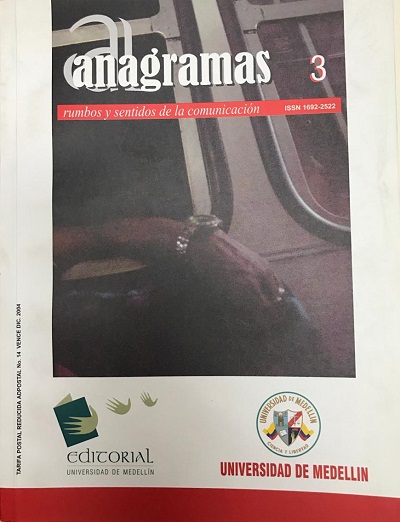 How to Cite
Pérez Henao, H. (1). Los mass media y la encrucijada del cuerpo. Anagramas Rumbos Y Sentidos De La Comunicación, 2(3), 165-168. Retrieved from https://revistas.udem.edu.co/index.php/anagramas/article/view/1248
Downloads
Download data is not yet available.
Copyright (c) 2015 Anagramas
This work is licensed under a Creative Commons Attribution-NonCommercial 4.0 International License.
Total or partial reproduction of the contents of the journal are authorized for educational, investigative or academic purposes as long as the source is cited. In order to make reproductions for other purposes, it is necessary to have the express authorization of the imprint or Sello Editorial of the Universidad de Medellín.