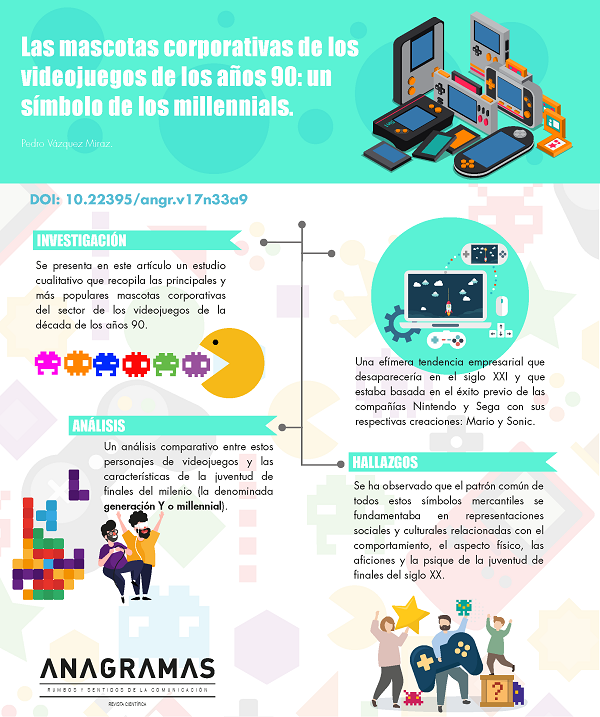 The corporate mascots of video games of the 90s: a symbol of millennials
Copyright and Licensing:
Copyright (c) 2019 Anagramas Rumbos y Sentidos de la Comunicación
This work is licensed under a Creative Commons Attribution-NonCommercial 4.0 International License.
Submitted: January 20, 2018

Published: December 31, 2018
Abstract
This paper presents a qualitative study that compiles the main and most popular corporate mascots of the video game sector in the 90s, an ephemeral business trend that would disappear in the 21st century and was based on the previous success of the Nintendo and Sega companies with their creations: Mario and Sonic.
Through a comparative analysis between these video game characters and the characteristics of the youth of the end of the millennium (the so-called generation Y or millennial ), it has been found that the common pattern of all these mercantile symbols was based on social and cultural representations related to behavior, physical aspect, hobbies and psyche of the youth of the late twentieth century.
References
Benito, J. (2012). El mercado del videojuego: unas cifras. Icono 14, 4(1), 36-47.
doi.org/10.7195/ri14.v4i1.396
Belli, S. y López, C. (2008). Breve historia de los videojuegos. Athenea Digital, 14, 159-179.
doi.org/10.5565/rev/athenead/v0n14.570
Cataldi, Z. y Dominighini, C. (2015). La generación millennial y la educación superior. Los retos de un nuevo paradigma. Revista de Informática Educativa y Medios Audiovisuales, 12(19), 14-21.
Cruz, R. (2016). Análisis de la obra de Miyamoto a través de sus personajes y la influencia en Occidente tras la primera crisis del videojuego. En A. Gómez-Aragón (Ed.), Japón y Occidente. El Patrimonio Cultural como punto de encuentro (pp. 763-772). Sevilla: Aconcagua.
De Diego, R. (2013). Bowser Lives. Pautas para el diseño de villanos con valor pedagógico. Revista LifePlay, (1), 69-84.
Del Olmo, D. (2013). Acercamiento al aprendizaje conductual bajo el mundo 1-1 de Súper Mario Bros. Revista LifePlay, (1), 85-100.
Esposito N. (2005). A short and simple definition of what videogames is. Compiègne: University of Technology of Compiègn.
Feixa, C. (2006). Generación XX. Teorías sobre la juventud en la era contemporánea. Revista Latinoamericana de Ciencias Sociales, Niñez y Juventud, 4(2).
Garfias, J. (2010). La industria del videojuego a través de las consolas. Revista Mexicana de Ciencias Políticas y Sociales, 52(209), 161-179.
Garin, M. (2009). Mitojuegos. Sobre el héroe y el mito en el imaginario Nintendo. Comunicación, 7(1), 94-115.
Henry, M. (1994). The Triumph of Popular Culture: Situation Comedy, Postmodernism and "The Simpsons". Studies in Popular Culture, 17(1), 85-99.
Kraak, V.I y Story, M. (2014). Influence of food companies' brand mascots and entertainment companies' cartoon media characters on children's diet and health: a systematic review and research needs. Obesity Reviews, 16(2), 107-126.
doi.org/10.1111/obr.12237
Lafrance, J.P. (2003). El juego interactivo: el primer medio de masas de la era electrónica. Quaderns del CAC, (15), 59-68.
Mangirón, C. (2012). Manga, anime y videojuegos japoneses: análisis de los principales factores de su éxito global. Puertas a la lectura, (24), 28-43.
Martínez, D. (2016). Crash Bandicoot: 10 claves para conocer a la mascota de Sony. Recuperado de
http://www.hobbyconsolas.com/reportajes/crash-bandicoot-10-claves-conocer-mascota-sony-75536
Nintendo. (s.f.). La historia de Nintendo. Recuperado de
https://www.nintendo.es/Empresa/La-historia-de-Nintendo/La-historia-de-Nintendo-625945.html
Peña, A. (2015). 20 años con Rayman, la mascota de Ubisoft. Okdiario.com. Recuperado de
https://okdiario.com/videojuegos/2015/11/17/rayman-20-aniversario-rayman-adventures-7459
Pereira, F. y Alonzo, T. (2017). Hacia una conceptualización de los videojuegos como discursos multimodales electrónicos. Anagramas Rumbos y Sentidos de la Comunicación, 15(30), 51-64.
doi.org/10.22395/angr.v15n30a2
Pérez, Á. (2014). El aprendizaje con videojuegos. Experiencias y buenas prácticas realizadas en las aulas españolas. Escuela Abierta, 17, 135-156.
Pettus, S. (2013). Service Games: The Rise and Fall of SEGA. Charleston: CreateSpace Independent Publishing Platform.
Ramos, D. y Ortega, F. (2017). La revolución en los hábitos de uso y consumo de vídeo en teléfonos inteligentes entre usuarios millenials: la encrucijada revelada. Revista Latina de Comunicación Social, 72, 704-718.
Rivera, E. y Torres, V. (2018). Videojuegos y habilidades del pensamiento. Revista Iberoamericana para la Investigación y el Desarrollo Educativo, 8(16).
Rochford, L. (2016). Contrepoint - Millenials, Y, Z. Et après? Informations Sociales, 195, 6.
Rosario, R. (2001). El cannon cool: joven literatura anglo-americana de los 90. Anales de la Universidad Metropolitana, 1(2), 111-116.
Ruiz, J. (2017). Millennials y redes sociales: estrategias para una comunicación de marca efectiva. Miguel Hernández Communication Journal, 8, 347- 367.
Squire, K. y Steinkuehler, C. (2005). Meet the gamers. Library Journal, 130(7), 38-41.
Vargas, L. (2014). Videjugando: focalización atencional y rememoración en preadolescentes ¿Pueden atender procesos simultáneos y dejar espacio a la publicidad? Anagramas Rumbos y Sentidos de la Comunicación, 12(24), 21-38.
Vázquez, P. (2016). Revisión de un artículo reciente de Díez-Gutiérrez (2014) y revisión cualitativa de los videojuegos analizados en Díez-Gutiérrez et al. (2004). Cuestiones de Género: de la Igualdad y la Diferencia, (11), 509-522.
http://doi.org/10.18002/cg.v0i11.3576
How to Cite
Vázquez-Miraz, P. (2018). The corporate mascots of video games of the 90s: a symbol of millennials. Anagramas Rumbos Y Sentidos De La Comunicación, 17(33), 195-213. https://doi.org/10.22395/angr.v17n33a9
Downloads
Download data is not yet available.