Metodología para la realización y abordaje en cine documental
César Cardona Cano

ccardona@udem.edu.co


Universidad de Medellín
Abstract
Este texto aborda los elementos clave para la realización documental, teniendo en cuenta la diversidad de historias que pueden ser plasmadas en una película y las diferentes variables que contiene un proceso narrativo y creativo desarrollado desde la investigación y la exploración audiovisual. Presenta estrategias metodológicas y promueve los procesos de creación a partir de la realidad. Sin duda, es una guía ágil que permite a los interesados en la realización documental, definir los objetivos, identificando los elementos diferenciadores de cada propuesta.
Author Biography

César Cardona Cano,

Universidad de Medellín

Docente Investigador. Facultad de Comunicación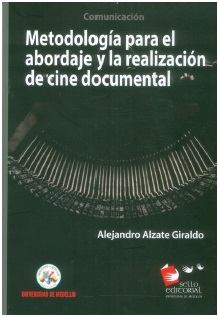 How to Cite
Cardona Cano, C. (2018). Metodología para la realización y abordaje en cine documental. Anagramas Rumbos Y Sentidos De La Comunicación, 16(32), 167-168. Retrieved from https://revistas.udem.edu.co/index.php/anagramas/article/view/2635
Downloads
Download data is not yet available.
Copyright (c) 2018 Anagramas Rumbos y Sentidos de la Comunicación
This work is licensed under a Creative Commons Attribution-NonCommercial 4.0 International License.
Total or partial reproduction of the contents of the journal are authorized for educational, investigative or academic purposes as long as the source is cited. In order to make reproductions for other purposes, it is necessary to have the express authorization of the imprint or Sello Editorial of the Universidad de Medellín.