The use of oral sources in cinema history research. The independent cinema during Spanish transition narrated by the protagonists
María Jesús Ruiz Muñoz

mariajesus@uma.es


Universidad de Málaga
Keywords:
Oral History, cinema, independent, alternative, Spanish Transition
Abstract
This paper goes deep in the posibilities that oral sources offer to investigate the Cinema History. It is emphasized the importance of the oral sources to make the informal Cinema History, specially in the case of non-industrial cinema. As an example, the methodological design that the authoress has developed in her thesis Independent cinema production during Spanish Transition: Andalucian case. The authoress has a FPDI scholarship granted by the Junta de Andalucia and she works in the Universidad de Málaga.
Author Biography

María Jesús Ruiz Muñoz,

Universidad de Málaga

Licenciada en Periodismo por la Universidad de Málaga (2005). Licenciada en Publicidad y Relaciones Públicas por la Universidad de Málaga (2001). Master en Guión de Televisión por la Universidad Internacional Menéndez Pelayo – Fundación para la Investigación del Audiovisual (Valencia, 2004). Master Internacional de Escritura para Cine y Televisión (especialidad de Análisis), por la Universitat Autònoma de Barcelona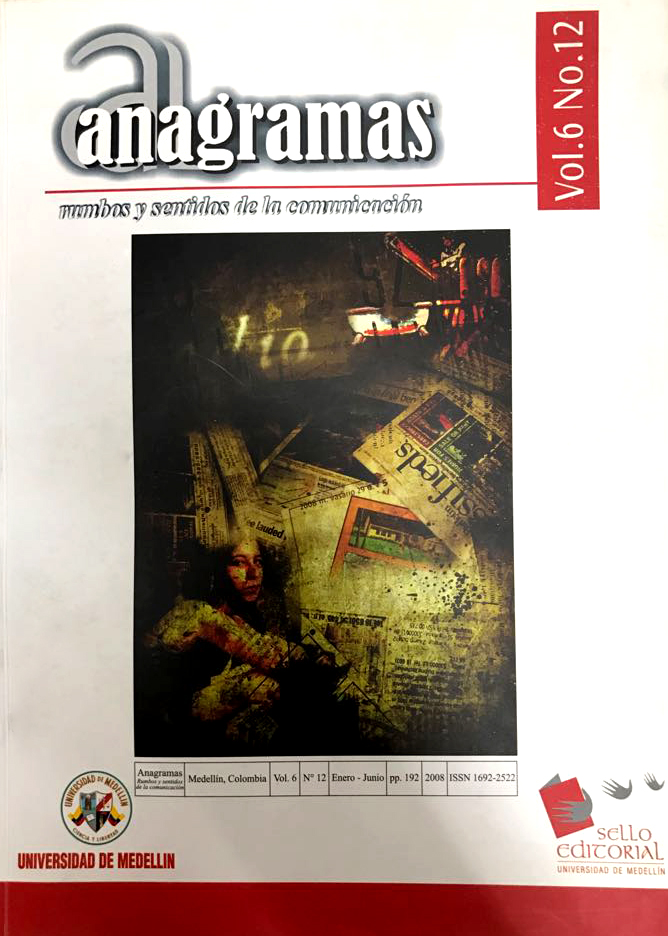 How to Cite
Ruiz Muñoz, M. J. (1). The use of oral sources in cinema history research. The independent cinema during Spanish transition narrated by the protagonists. Anagramas Rumbos Y Sentidos De La Comunicación, 6(12), 155-169. Retrieved from https://revistas.udem.edu.co/index.php/anagramas/article/view/714
Downloads
Download data is not yet available.
Copyright (c) 2014 Anagramas
This work is licensed under a Creative Commons Attribution-NonCommercial 4.0 International License.
Total or partial reproduction of the contents of the journal are authorized for educational, investigative or academic purposes as long as the source is cited. In order to make reproductions for other purposes, it is necessary to have the express authorization of the imprint or Sello Editorial of the Universidad de Medellín.