IMÁGENES DE PAZ, LA ILUSIÓN DE UN PROCESO
Ana Maria López Carmona

amlopez@udem.edu.co
Universidad de Medellin

Abstract
El análisis de la imagen, tema central del presente articulo, hace parte del método de análisis del tratamiento periodistíco de información. En este se consideran categorías que permiten ubicar la procedencia de la pieza informativa, analizar la ubicación en la página, la imagen, y el contenido del texto escrito.
Downloads
Download data is not yet available.
Author Biography

Ana Maria López Carmona,

Universidad de Medellin

Docente-Investigadora facultad de Comunicación, Universidad de Medellín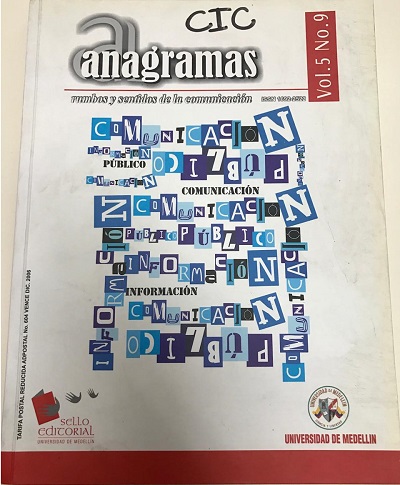 How to Cite
López Carmona, A. (11). IMÁGENES DE PAZ, LA ILUSIÓN DE UN PROCESO. ANAGRAMAS RUMBOS Y SENTIDOS DE LA COMUNICACIóN, 5(9), 29-46. Retrieved from https://revistas.udem.edu.co/index.php/anagramas/article/view/784
This work is licensed under a Creative Commons Attribution-NonCommercial 4.0 International License.
Total or partial reproduction of the contents of the journal are authorized for educational, investigative or academic purposes as long as the source is cited. In order to make reproductions for other purposes, it is necessary to have the express authorization of the imprint or Sello Editorial of the Universidad de Medellín.