Imágenes del otro: colombianos y extranjeros en el cine contemporáneo de ficción
Manuel Silva Rodríguez

manuel.silva@correounivalle.edu.co


Universidad del Valle
Abstract
A partir de un modo de entender la relación cine e identidad, el artículo indaga enlas imágenes con las cuales se representan, en un corpus de filmes recientes, lospersonajes colombianos cuando entran en contacto con personajes foráneos enterritorio colombiano o extranjero. Desde la perspectiva de la imagología, el textopretende identificar estereotipos y lugares comunes con los cuales son representadoslos colombianos y, por extensión, Colombia.
Author Biography

Manuel Silva Rodríguez,

Universidad del Valle

Doctor en Teoría de la Literatura y Literatura Comparada de la Universidad Autónoma de Barcelona. Magíster en Filosofía y ComunicadorSocial de la Universidad de Antioquia, Medellín-Colombia, Profesor asociado Escuela de Comunicación Social, Universidad del Valle,Cali, Colombia.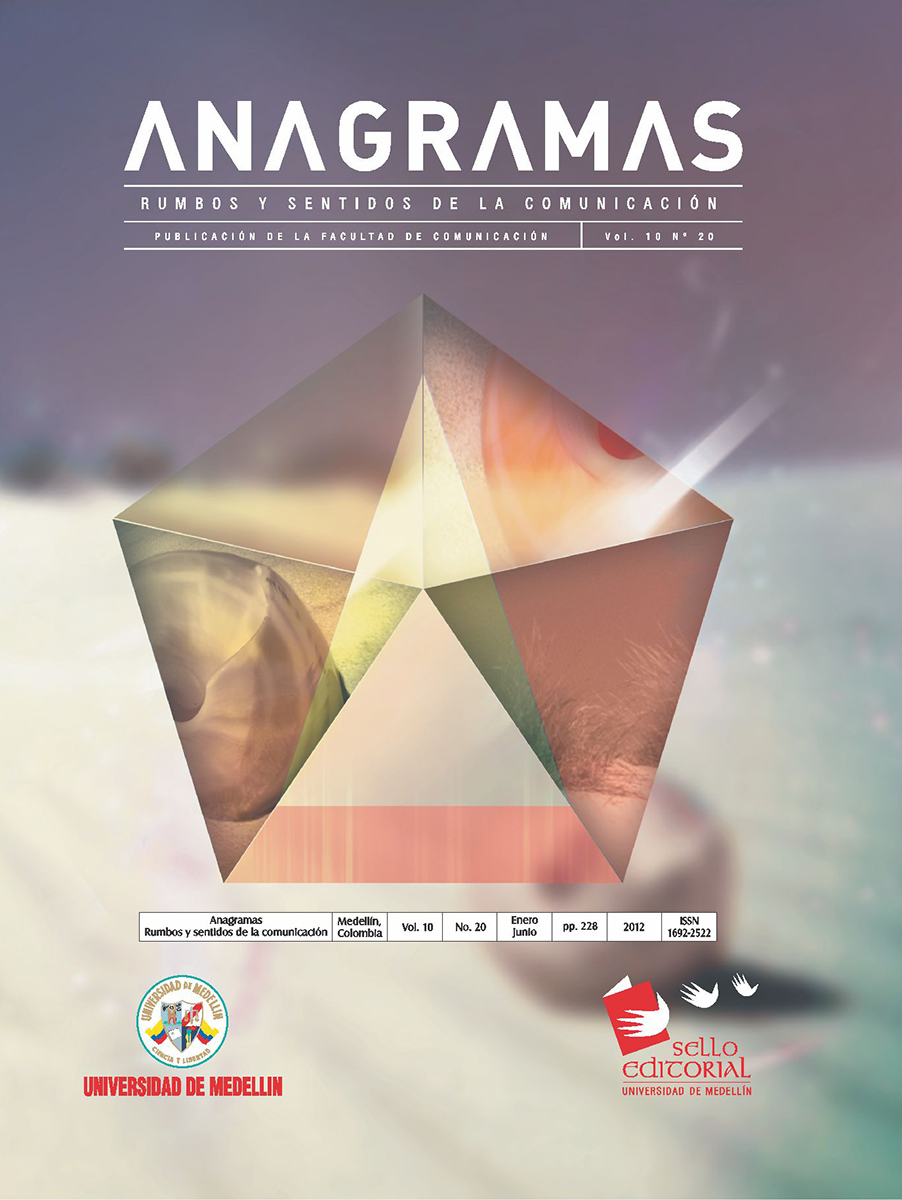 How to Cite
Silva Rodríguez, M. (1). Imágenes del otro: colombianos y extranjeros en el cine contemporáneo de ficción. ANAGRAMAS RUMBOS Y SENTIDOS DE LA COMUNICACIóN, 10(20). https://doi.org/10.22395/angr.v10n20a2
Downloads
Download data is not yet available.
Copyright (c) 2014 Anagramas
This work is licensed under a Creative Commons Attribution-NonCommercial 4.0 International License.
Total or partial reproduction of the contents of the journal are authorized for educational, investigative or academic purposes as long as the source is cited. In order to make reproductions for other purposes, it is necessary to have the express authorization of the imprint or Sello Editorial of the Universidad de Medellín.