Fragmented identity ... Performative identity: Style to youth cultures
Ángela Garcés Montoya

agarces@udem.edu.co


Universidad de Medellín
Keywords:
Youth culture, Parodic cultures, Fragmented identity, Performative Identity, youth
Abstract
Urban, juvenile, cultures, are configured as spaces of identity and socialization of youths for youths, and are strengthened with the weakening of the traditional integration mechanisms (school, family, works religion) and the disrepute of the political institutions, in this context, urban cultural studies acquire relevance, where young people emerge as individuals and as productive groups of Culture because of their ways of understanding and taking on the world.
The juvenile Cultures are confronting the structuring identity, thus we recognize in them the emergence of instable, mobile, current, rootless identities... which confront the traditional notion of identity: fixed, unique, and homogeneous. The renewed juvenile identities are denominated fragmented identities... pre-formative identities, for the identities developed in juvenile cultures are adapted, disfigured, or reconstructed by the young people: they invent their own identity and even more so, they are unfaithful, that is, they resist to remaining any polished, defined, determined, or structured identity.
The collective relationship, juvenile culture-esthetics-identity, opens up a renewed perspective of researching which we are carrying out to the University of Medellin and it pretends to show the core role Which music fulfills as a juvenile identity force which, furthermore, enhances the possibilities of creation and cultural production of the youths for the youths.
Author Biography

Ángela Garcés Montoya,

Universidad de Medellín

Historiadora y magíster en Estética: Culturas urbanas Contemporáneas. Autora de los libros Devenir hombre / mujer. Paso de la Villa de la Candelaria a la ciudad de Medellín; Nos-Otros los jóvenes; y coautora del libro Juventud, investigación y saberes. Estado del arte del conocimiento en juventud en Medellín. 2006-2008. Actualmente, docente de la Facultad de Comunicación, Universidad de Medellín y líder del Grupo de Investigación Discurso, Organización y Política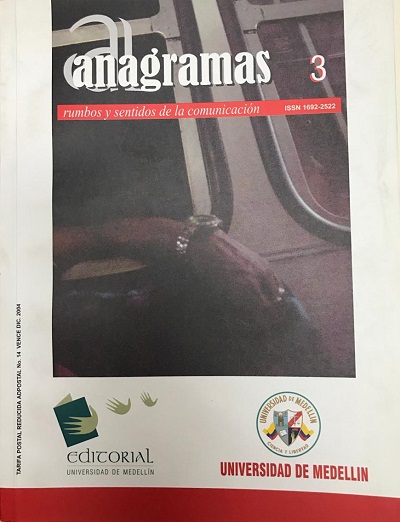 How to Cite
Garcés Montoya, Ángela. (1). Fragmented identity . Performative identity: Style to youth cultures. Anagramas Rumbos Y Sentidos De La Comunicación, 2(3), 25-41. Retrieved from https://revistas.udem.edu.co/index.php/anagramas/article/view/1240
Downloads
Download data is not yet available.
Copyright (c) 2015 Anagramas
This work is licensed under a Creative Commons Attribution-NonCommercial 4.0 International License.
Total or partial reproduction of the contents of the journal are authorized for educational, investigative or academic purposes as long as the source is cited. In order to make reproductions for other purposes, it is necessary to have the express authorization of the imprint or Sello Editorial of the Universidad de Medellín.