Oligopolies versus Democracy: Is this the end of communication?
Carlos Alberto Galvis Ortiz

cagalvis@udem.edu.co


Universidad de Medellín
Keywords:
Oligopolies, democracy, public communication, political ecology
Abstract
It is a sine quanon condition to take again citizenship as political deliberation fundamental actor in constructing what is social and what is public, in a world full of oligopolies of communication media, in order to assure the preservation of democracy as a guarantee of human feasibility. New communication ways, resulting from chaos, crisis, and uncertainty, start organizing again the environment of human beings. Public communication is now appearing as an interface strategy in the democratic re-construction of society, especially in situations of crisis. This article is the result of the research on "Public Communication: a space to construct democracy," carried out by CORPUS –Corporative Communication Research Group-, sponsored by Universidad de Medellin (Colombia) Research Vice-principal's office and Communication School.
Author Biography

Carlos Alberto Galvis Ortiz,

Universidad de Medellín

Docente-Investigador de la Facultad de Comunicación Universidad de Medellin, miembro del grupo de investigación CORPUS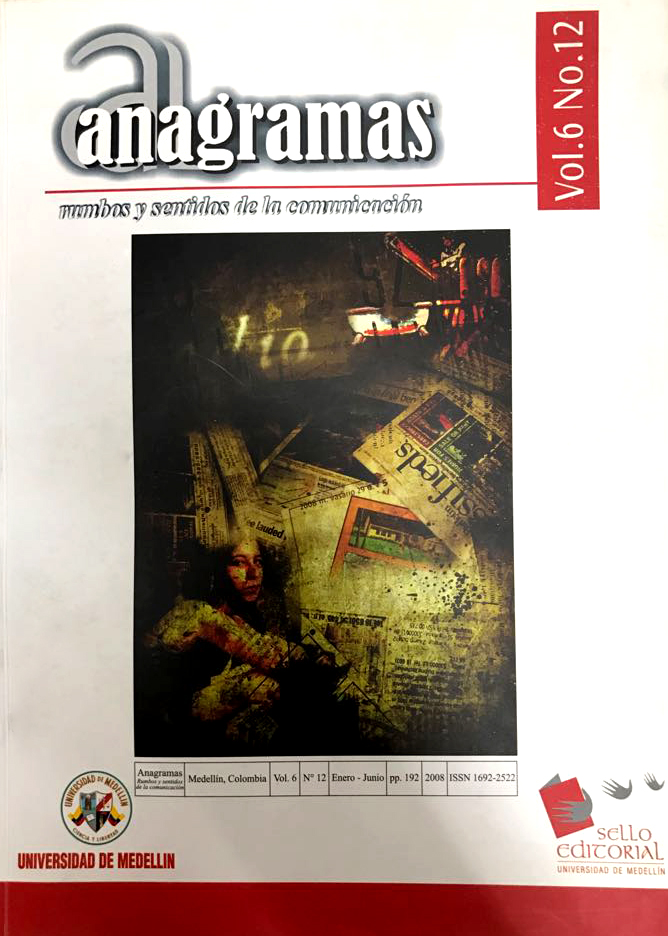 How to Cite
Galvis Ortiz, C. A. (1). Oligopolies versus Democracy: Is this the end of communication?. ANAGRAMAS RUMBOS Y SENTIDOS DE LA COMUNICACIóN, 6(12), 13-27. Retrieved from https://revistas.udem.edu.co/index.php/anagramas/article/view/706
Downloads
Download data is not yet available.
Copyright (c) 2014 Anagramas
This work is licensed under a Creative Commons Attribution-NonCommercial 4.0 International License.
Total or partial reproduction of the contents of the journal are authorized for educational, investigative or academic purposes as long as the source is cited. In order to make reproductions for other purposes, it is necessary to have the express authorization of the imprint or Sello Editorial of the Universidad de Medellín.