Editorial
Jorge Ignacio Sánchez Ortega

regionalizacioncomunicaciones@udea.edu.co


Universidad de Antioquia
Abstract
Tiene usted el número 4 de la Revista Anagramas. Le invitamos a recorrer parte de la producción académica de la Facultad de Comunicación y Relaciones Corporativas de la Universidad de Medellín, seguros de que hemos alcanzado un punto de no retorno en la búsqueda de la interlocución con la comunidad nacional y mundial.
Queremos compartir, en primer lugar, la buena nueva de contar a partir de este número con la participación de un Comité Científico Asesor, integrado por reconocidos personajes del mundo de la Comunicación en Iberoamérica. Es un reto nuevo para la revista, sellado en un Acta de compromiso que aparece en las páginas iniciales de esta edición.
Author Biography

Jorge Ignacio Sánchez Ortega,

Universidad de Antioquia

Docente-Investigador de la Facultad de Comunicación de la Universidad de Antioquia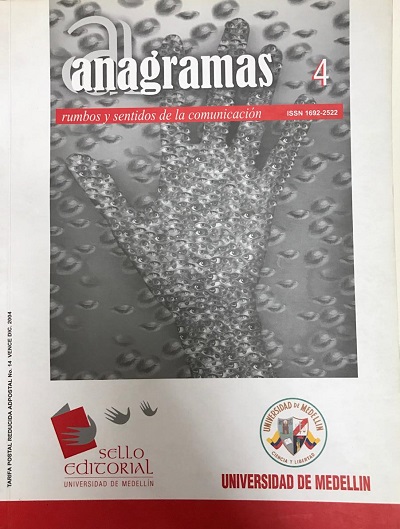 How to Cite
Sánchez Ortega, J. I. (1). Editorial. ANAGRAMAS RUMBOS Y SENTIDOS DE LA COMUNICACIóN, 2(4), 7-8. Retrieved from https://revistas.udem.edu.co/index.php/anagramas/article/view/1250
Downloads
Download data is not yet available.
Copyright (c) 2015 Anagramas
This work is licensed under a Creative Commons Attribution-NonCommercial 4.0 International License.
Total or partial reproduction of the contents of the journal are authorized for educational, investigative or academic purposes as long as the source is cited. In order to make reproductions for other purposes, it is necessary to have the express authorization of the imprint or Sello Editorial of the Universidad de Medellín.