Una caracterización del discurso del comunicador en el escenario corporativo1
Gladys Lucía Acosta Valencia

gacosta@udem.edu.co


Universidad de Medellín

Jorge Ignacio Sanchez Ortega

regionalizacioncomunicaciones@udea.edu.co


Universidad de Medellin
Keywords:
Discourse analysis, Speech corporate communicator, Characterization of speech
Abstract
Este texto da cuenta del objetivo principal de la investigación Del discurso del comunicador que actúa en el ámbito corporativo. Se trata de una caracterización de este discurso, a partir de un método deductivo, de tal manera que se expone una hipótesis y se procede a su sustentación. Es necesario aclarar que las dimensiones propuestas –estructura, propósito y contexto–, se trabajan de manera articulada, no separadamente.
El estudio se abordó con un enfoque cualitativo, desde una perspectiva descriptivo-analítica posibilitada por el método del Análisis del discurso en diferentes vertientes. Los datos se obtuvieron en doce organizaciones públicas y privadas de Medellín, mediante la aplicación de una Escala Likert, una Encuesta y, una Entrevista 'semiestructurada: también se observaron eventos públicos de las organizaciones y se analizaron dos escenarios de actuación clave para el comunicador: el grupo primario y el boletín, institucional impreso
Author Biographies

Gladys Lucía Acosta Valencia,

Universidad de Medellín

Docente-Investigadora de la Facultad de Comunicación de la Universidad de Medellín

Jorge Ignacio Sanchez Ortega,

Universidad de Medellin

Docente-Investigador de la Facultad de Comunicación de la Universidad de Antioquia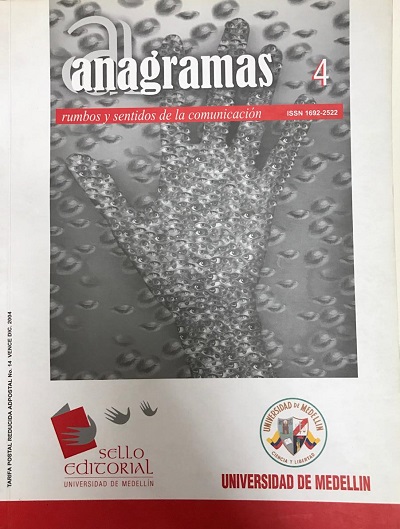 How to Cite
Acosta Valencia, G. L., & Sanchez Ortega, J. I. (1). Una caracterización del discurso del comunicador en el escenario corporativo1. ANAGRAMAS RUMBOS Y SENTIDOS DE LA COMUNICACIóN, 2(4), 17-46. Retrieved from https://revistas.udem.edu.co/index.php/anagramas/article/view/1251
Downloads
Download data is not yet available.
Copyright (c) 2015 Anagramas
This work is licensed under a Creative Commons Attribution-NonCommercial 4.0 International License.
Total or partial reproduction of the contents of the journal are authorized for educational, investigative or academic purposes as long as the source is cited. In order to make reproductions for other purposes, it is necessary to have the express authorization of the imprint or Sello Editorial of the Universidad de Medellín.