Editorial
Mauricio Andrés Alvarez Moreno

maualvarez@udem.edu.co
Universidad de Medellín

Abstract
Anagramas Rumbos y Sentidos de la Comunicación has reached maturity regarding some of its publishing processes, as well as the consolidation of its academic trajectory. Fifteen years of reflection and discussion about communication are reflected in the fact that the journal is now linked to various databases, as well as in the broadening of the international spectrum of its collaborations.
Downloads
Download data is not yet available.
Author Biography

Mauricio Andrés Alvarez Moreno,

Universidad de Medellín

Comunicación y Relaciones Corporativas Universidad de Medellín; Maestría en Comunicaicón Educativa Universidad Tecnológica De Pereira; Máster en Relaciones Internacionales Iberoamericanas, Universidad Rey Juan Carlos; Doctorado (c) Relaciones Internacionales iberoamericanas Universidad Rey Juan Carlos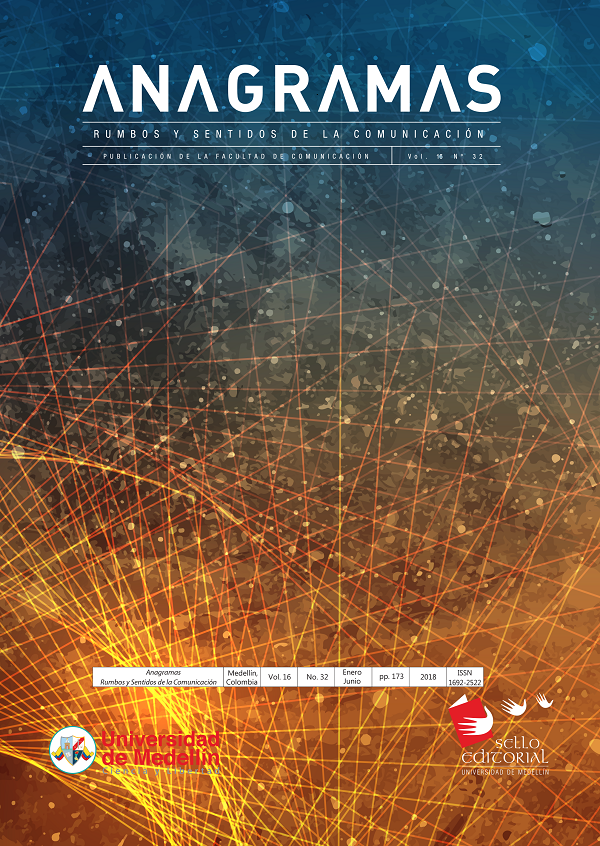 How to Cite
Alvarez Moreno, M. (2018, June 10). Editorial. ANAGRAMAS RUMBOS Y SENTIDOS DE LA COMUNICACIóN, 16(32), 19-23. https://doi.org/10.22395/angr.v16n32a1
This work is licensed under a Creative Commons Attribution-NonCommercial 4.0 International License.
Total or partial reproduction of the contents of the journal are authorized for educational, investigative or academic purposes as long as the source is cited. In order to make reproductions for other purposes, it is necessary to have the express authorization of the imprint or Sello Editorial of the Universidad de Medellín.